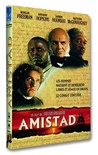 Starring:

Anthony Hopkins

,

Djimon Hounsou

,

Matthew McConaughey

,

Morgan Freeman

Summary:

Based on a true story, a group of enslaved Africans aboard the slaveship La Amistad overtake the ship and attempt to return to their homeland. When the ship is seized, the captives are brought to the United States where an enthralling courtroom battle ensues that captures the attention of

Based on a true story, a group of enslaved Africans aboard the slaveship La Amistad overtake the ship and attempt to return to their homeland. When the ship is seized, the captives are brought to the United States where an enthralling courtroom battle ensues that captures the attention of the entire nation while confronting the very foundation of the American justice system. (DreamWorks)

…

Expand
Director:

Steven Spielberg

Genre(s):

Drama

,

History

,

Mystery

Rating:

TV-MA

Runtime:

155 min
Please enter your birth date to continue:
You are not allowed to view this material at this time.
Spielberg has mounted a courtroom drama to rival the finest Grisham, with a coruscating civil rights debate resonating both within the film and into the present as the audience knows it.

Thematically rich, impeccably crafted, and intellectually stimulating, the only area where this movie falls a little short is in its emotional impact.

Becomes a too-stately courtroom drama, with the Africans in the dock, the issue of slavery on trial at didactic length, and the top-billed Morgan Freeman as an abolitionist shunted to the sidelines with too little to do. [26 Jun 1998, p. 130]

Cinque, the rebel leader, is played by former model Hounsou, a mountainous figure who speaks in a gutteral roar and seems to embody the rage and confusion of an entire exploited continent.

Scenes go on and on in endless, witless dialogue, ever accompanied by John Williams' hideously gushing music.

Of the underutilized mega cast, Djmon Honsou shines the brightest. His portrayal of Cinque, the leader of the displaced band of African tribesmen, is devastatingly potent.

A little like looking at pictures without a text to unify them… Prestige filmmaking bereft of inspiration -- sometimes even of the nuts and bolts of craft.
Amistad es una buena película que muestra la realidad de la esclavitud que hubo durante esas épocas, y que brinda buenas actuaciones por parte

Amistad es una buena película que muestra la realidad de la esclavitud que hubo durante esas épocas, y que brinda buenas actuaciones por parte de todos. Sin dudas es otro de los buenos films de Steven Spielberg.

…

Expand

Esta película nos muestra lo que tenían que sufrir los pricioneros en esta época, y aunque es un poco predecible, tiene actuaciones

Esta película nos muestra lo que tenían que sufrir los pricioneros en esta época, y aunque es un poco predecible, tiene actuaciones maravillosas y Spielberg dirigió muy bien.

…

Expand

Amistad sets sail with a striking detail, a close-up of blood-covered fingers struggling to pull a nail out of rotten wood. This powerful

Amistad sets sail with a striking detail, a close-up of blood-covered fingers struggling to pull a nail out of rotten wood. This powerful image evolves into a ruthlessly brutal slaves' revolt during a stormy night (it's a well-known fact that mutinies and dinosaur attacks occur only in bad weather). It's a marvellous sequence, demonstrating Spielberg's talent for creating mythical, memorable images. Then white people and long speeches take over, and Amistad turns into a dull courtroom drama.

Although the film tries to settle into an anti-slavery stance, it's simply not focused enough. The only epic thing about it is its length, while the inclusion of political figures (Nigel Hawthorne as the current US President) is not enough to make it a serious political film. It also fails, as courtroom drama, to offer any interesting insight into legal or moral questions. From the court point on view, all the defence has to prove is that the Africans were born as free men in Africa, and therefore cannot be judged as slaves. Since this is quite easily proven, Spielberg tries to fill the dramatic void with bitty snippets of international political intrigue (the Queen of Spain and the southern states are not happy), and personal exchanges between the lawyers and Cinque, the slaves' charismatic leader.

What the film lacks most of all is a central character as charismatic and as multi-layered as Oskar Schindler. Cinque (played by Djimon Hounsou) cuts an imposing, dignified figure, exuding life force and the sex appeal of rage. But all too quickly he is chained and exiled to the edge of the story, functioning more as a spectator of the feats of the white man than a true protagonist.

Instead, the bulk of the film is carried by the tired pairing of two lawyers - one young and inexperienced but idealistically driven, the other old and wise, and not a little cynical (Hopkins, the ex-US President). As the good, young attorney, Matthew McConaughey - in a beard that will not start a new fashion - gives a lacklustre performance. There's not much left in him when he's prevented from being the smouldering hunk type he played in A Time To Kill.

The Brits, cast as early Americans, fare better, but they don't have much to go on. Jeremy Northam, for instance, portrays a judge whose sole dramatic function is to surprise us into an uplifting moment. But we hardly have a chance to know him, and the potentially cathartic moment of his announcement of the verdict leaves us cold.

There is one shattering sequence, which almost makes up for Amistad's indirection. During the trial we flashback with Cinque to the horrors suffered during the "middle passage", in which the Africans are literally treated as excess baggage. It is a scene of shockingly graphic cruelty and inhumanity, never before seen in a Hollywood movie. Interestingly, this scene comes only after we have witnessed the hitherto inexplicable brutality it's caused.

The film returns to the water in the last scene, but now it's a sunny day, and the blacks, who were naked or dressed in rags throughout the film, are adorned in angelic white garments. The scene has religious undertones - only Ave Maria is missing. It is an unintentionally troubling final image, conveying that this was, and always will be, a very white story.

Amistad is worth seeing for the stormy scenes on board the slave boat, and for Djimon Hounsou's magnetic performance. Otherwise, it can't decide on its direction, and this unique historical event is stifled into a less than thrilling courtroom drama.

…

Expand

The forces of power, racism and justice momentously clash in Steven Spielberg's epic drama "Amistad," an artistically solid, if not always

The forces of power, racism and justice momentously clash in Steven Spielberg's epic drama "Amistad," an artistically solid, if not always dramatically exciting, chronicle of the 1839 rebellion on board the Spanish slave ship of the title. True story is presented as an international intrigue of a high order.

Boasting a high-voltage cast, led by Brits Anthony Hopkins and Nigel Hawthorne, Americans Morgan Freeman and Matthew McConaughey, and, most impressively, West African Djimon Hounsou as the rebels' leader, this second release from DreamWorks should sail safely as a message film that touches on the very fabric of the American social system.

Spielberg's second foray into African-American history is far more effective and moving than "The Color Purple," his compromised, sanitized rendition of Alice Walker's novel. Thematically, the new film is a logical endeavor following "Schindler's List," though stylistically the two films are very different. Aiming to instruct as well as entertain — and often struggling to reconcile these two divergent goals — "Amistad" lacks the subtlety of tone and the simplicity of form that made the 1993 Oscar-winning film so special in Spielberg's oeuvre.

The director strives a tad too hard to emphasize the universal elements of the 19th-century case of injustice, using a deliberate visual style that accentuates (and often inflates) every single idea and image. Spielberg skeptics will find ammunition to criticize "Amistad" as too solemnly earnest and too bombastic in its visual strategy.

In a powerful pre-credits sequence that evidences a conspicuously bold touch, Spielberg shows how Sengbe Pieh (called Cinque by the Spaniards) begins the rebellion when he breaks free of his shackles. This violent scene (partly responsible for pic's R rating) depicts graphically with mega-closeups and rapid montage the impalement of an officer on a sword.

From this point on, David Franzoni's multifaceted script relates the saga from the perspective of its central victim, a once free rice farmer who suddenly found himself a chained slave. With Cinque (Hounsou), the filmmakers provide the audience a most sympathetic figure — and an emotional hook — to absorb the sprawling drama as it hops from one continent to another.

After the rebels are caught and thrown into a New England prison, story switches to Theodore Joadson (Freeman), a former slave who has joined forces with a businessman called Tappan (Stellan Skarsgard) in the Abolitionist cause. When the Amistad incident breaks, the American press labels it "a massacre at sea," but Joadson perceives the Africans as freedom fighters. Attempting to enlist a decent attorney, he ends up with Baldwin (McConaughey), a shady property lawyer nicknamed "Dung Scrapper."

For Baldwin, the case represents a property, not a human rights, issue. Indeed, in the trial, positioned against Holabird (Pete Postlethwaite), the nasty government prosecutor, Baldwin tries desperately to prove that the Africans were not legally slaves, that they were "stolen goods" because they were born in Africa and illegally kidnapped from their homes.

The case goes to the Supreme Court, where the Africans are defended by none other than John Quincy Adams (Hopkins), the former president and son of founding father John Adams.

Though there are a number of trials, Spielberg shrewdly avoids the routine format of courtroom drama, instead seamlessly integrating the numerous characters and their particular stands on the case. Yet every once in a while one senses an inner tension between Spielberg the mass entertainer, with his assured command of facile camera and trademark pyrotechnics, and the genuine artist, pressing for the simple core of the drama.

Occasionally, the film succumbs to the level of an anthropological survey, viewing the Africans and their rituals as exotic curiosity, though Hounsou's dignified portrayal of Cinque as a man of outer strength and inner peace successfully counters this weakness. Regrettably, the always brilliant Freeman is totally wasted as Joadson, functioning as no more than a link among the various episodes, a possible result of the fact that his fictional character is a composite of several historical figures.

Cast against type, with shabby beard and big glasses to deglamorize his natural handsomeness, McConaughey renders a passable performance, failing to grab the opportunities of his substantial role. Playing a man older than his age, Hopkins shines throughout, and once he takes center stage he ignites the screen with a bravura 11-minute argument that results in the freeing of the slaves and crushing the notorious Lomboka Slave Fortress.

Filmed in various locations in New England and Puerto Rico, technically "Amistad" is an aural and visual pleasure, due to John Williams' emotional score, Janusz Kaminski's vibrant lensing, Rick Carter's accurate production design and Ruth Carter's verified costumes, all contributing to an authentic experience.

…

Expand

Captivating but it has pacing problems

Pretty good but slow at times.

I think the flow of the movie was too choppy...It didn't appropriately depict the trajedy and hardship that the Africans were put through.