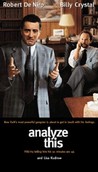 Starring:

Billy Crystal

,

Robert De Niro

Summary:

When a mob boss (De Niro) suddenly starts to have panic attacks, he enlists the help of a reluctant psychiatrist (Crystal).
Director:

Harold Ramis

Genre(s):

Comedy

,

Crime

Rating:

R

Runtime:

103 min
Please enter your birth date to continue:
You are not allowed to view this material at this time.
More than a high concept stretched to feature length. This is a funny and extremely satisfying comedy, the best in a while.

Watching De Niro take Paul through his first panic attack ("I'm crying like a woman") is an unalloyed joy.

A funny, tightly plotted, well-conceived comedy that transcends both Crystal's '90s curse and its horrible title.

There are some moments that fall flat—the cinematic world might be a better place without Crystal's deeply unfunny parody of a gangster—and the delightful Lisa Kudrow is woefully under-used.

Because De Niro's performance is aptly ''Scorsese-aggressive'' while Crystal effectively underplays, one can easily sit through this bottom-line disappointment with a smile painted on, waiting for belly laughs that rarely come. [5 Mar 1999]

Ramis doesn't reach the comic heights of his "Groundhog Day," but the acting is excellent and the screenplay offers some hearty laughs if you can stand bursts of violence and language as foul as a Mafioso's business agenda.

Watching Ramis struggle with his two stars is like watching someone try to juggle lead weights.
Analyze this is as funny as Meet The Parents. Deniro parodies himself again, he mocks his mafia image
and the result are brilliant andAnalyze this is as funny as Meet The Parents. Deniro parodies himself again, he mocks his mafia image
and the result are brilliant and hilarious. Crystal is also very funny as his shrink who is coerced into
treating him.

…

Expand

Funny, the movie id basically a comedy version of the sopranos, if you're into Italian mafia movies you'll love it. when viti wanted to Wack

Funny, the movie id basically a comedy version of the sopranos, if you're into Italian mafia movies you'll love it. when viti wanted to Wack the Doc, that was hilarious. 10/10

…

Expand

DeNiro can't get any funnier. Joe Viterelli adds so much to every scene and Billy Crystal is Billy Crystal. Fun to watch over and over. When

DeNiro can't get any funnier. Joe Viterelli adds so much to every scene and Billy Crystal is Billy Crystal. Fun to watch over and over. When Paul Vitti shoots the pillow ... it is just plain f unny.

…

Expand

Robert De Niro hams it up as a gang boss with a few in jokes here & there. Nice to see him taking the piss out of himself.
Billy Crystal playsRobert De Niro hams it up as a gang boss with a few in jokes here & there. Nice to see him taking the piss out of himself.
Billy Crystal plays the straight man &, despite it being a bit weak at the end, a pretty funny film.

…

Expand

One of the first and best of Robert De Niro's self parody performances. Not exactly hysterical, but very funny without a doubt. Strangely De

One of the first and best of Robert De Niro's self parody performances. Not exactly hysterical, but very funny without a doubt. Strangely De Niro provides most of the laughs instead of the comedian Billy Crystal. However one of the mobsters henchmen named Jelly is the most likable and entertaining of the whole cast. I wish the actor Joe Viterelli appeared in more movies so that he might be more well known, he is strangely funny without telling many jokes. Some scenes were unfortunately laugh free, Lisa Kudrow's character seriously reminds me of Skyler from Breaking Bad, all she ever does is moan and spoil Crystal's characters fun. A very entertaining, but no more than satisfactory comedy which will definitely make you laugh but not a great deal

…

Expand

In remembrance of the late writer-director Harold Ramis, whose GROUNDHOG DAY (1993, 9/10) is one of my all-time favorite comedies, ANALYZE

In remembrance of the late writer-director Harold Ramis, whose GROUNDHOG DAY (1993, 9/10) is one of my all-time favorite comedies, ANALYZE THIS is another hoot although actually it is the brainchild of De Niro and Crystal, a farcical pastiche of De Niro's classic mafia mien (from THE GODFATHER: PART II 1974 to GOODFELLAS 1990, 9/10 and CASINO 1995, 7/10), he plays Paul Vitti, the notorious mobster boss, survives an assassination from his rival Primo (Palminteri) lately but horrified to find out his masculinity has been chipped away by certain panic attacks, he becomes a gun-shy and over-sentimental cry-baby, what's more vexing, his bed performance is effected as well. Therefore in order to solve the crisis, he visits a shrink, Dr. Ben Sobel (Chrystal), for treatment.

read rest of the review at my blog, google: cinema omnivore

…

Expand

What a waste of time this overly praised claptrap is. If there's any genuine humor to be found here, I'm afraid it eluded me. Every

What a waste of time this overly praised claptrap is. If there's any genuine humor to be found here, I'm afraid it eluded me. Every now and then DeNiro and Crystal stop playing DeNiro and Crystal. Alas, this is not one of those times.

…

Expand