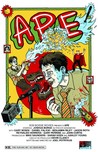 Summary:

Trevor Newandyke is a struggling comedian and a pyromaniac. Not only does his act bomb on stage, but he bombs at everyday life, too. Fed up with threats from the cable company, Slurpee price hikes and all the jerks who think they can push him around, all Trevor wants is a break. But instead

Trevor Newandyke is a struggling comedian and a pyromaniac. Not only does his act bomb on stage, but he bombs at everyday life, too. Fed up with threats from the cable company, Slurpee price hikes and all the jerks who think they can push him around, all Trevor wants is a break. But instead of getting himself together or channeling his anger for his act, he turns inward, to the loud din of his headphones and the crackling glow of fire to ease his mind. [Factory 25]

…

Expand
Director:

Joel Potrykus

Genre(s):

Drama

,

Fantasy

,

Comedy

Rating:

Not Rated

Runtime:

86 min
A biting, sometimes droll look at the allure of humiliation, Ape appears simple, but its underlying machinery is joltingly clever.

Potrykus offers a variety of intriguing suggestions about the relationship between laughter and violence, performance and destruction.

Acutely nailing the dysfunctional stand-up milieu both on- and off-stage, the micro-budgeted film is more a wryly-etched character sketch than an involvingly-plotted proposition, but it still manages to leave an impression thanks to Joshua Burge's convincingly-inhabited lead performance.