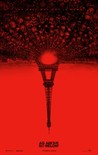 Starring:

Ben Feldman

,

Edwin Hodge

,

François Civil

,

Marion Lambert

,

Perdita Weeks

Summary:

Miles of twisting catacombs lie beneath the streets of Paris, the eternal home to countless souls. When a team of explorers ventures into the uncharted maze of bones, they uncover the dark secret that lies within this city of the dead.
The film's finely tuned middle act, a fast-paced and quick-witted journey into (possible) madness, eventually gives way to an unsettlingly over the top final section that relies far too much on larger setpieces and supposed "big scares" that are never as good as the smaller, weirder stuff.

Novel enough to be worth the price of admission, but you'll think twice before getting back in line for a second visit.

Boasts sporadically electrifying visuals but a frustratingly messy mythology.

There are some interestingly contrived moments of claustrophobia and surreal lunacy, but this cliched and slightly hand-me-down script neither scares nor amuses very satisfyingly.

While its characters attempt to go deeper, As Above/So Below's stabs at scares and sentiment only seem that much shallower.

It's more unpleasant than scary, and ever so slow in getting up to speed.

An entertainment-free sinkhole of Dramamine-worthy nonsense.
Stupid horror movies are boring; this one isn't stupid. It tries to establish its own mythology and sticks to it. Though the mythos isn't the

Stupid horror movies are boring; this one isn't stupid. It tries to establish its own mythology and sticks to it. Though the mythos isn't the best thing since sliced bread, I did appreciate the filmmakers giving it their best shot. This film is like a terrifying version of the abyss shot with headcams. They just keep going deeper and deeper into the depths of the underworld and it's a wild ride. It's worth watching once. I watched "sinister" last night, and in contrast, this flick was worlds better. The monsters were actually scary instead of some idiot wearing a tuxedo. Don't listen to people giving as above so below 0 scores because they obviously aren't bright enough to recognize what a real scary movie should be like.

…

Expand

Thoroughly enjoyed this movie. Had very tense and gripping moments.

One of the better horror movies with an interesting story that keepsThoroughly enjoyed this movie. Had very tense and gripping moments.

One of the better horror movies with an interesting story that keeps you thinking! The metascore is a joke

…

Expand

I believe that by many people, this film has been unfairly reviewed. I went to to see it on Saturday and thoroughly enjoyed it. It had a very

I believe that by many people, this film has been unfairly reviewed. I went to to see it on Saturday and thoroughly enjoyed it. It had a very good story which kept you on edge until the end. It had plenty of jump scares which I expect from a horror film and the actresses and actors were chosen perfectly for their roles. If anyone has been put off by negative reviews, I would suggest going to see the movie for yourself and making your own judgement.

…

Expand

Not bad at all for a found footage film. It only lost me slightly around the halfway mark when the literal happenings gave way to the

Not bad at all for a found footage film. It only lost me slightly around the halfway mark when the literal happenings gave way to the fantastical. I do think the cast was pretty fun to watch.

…

Expand

There's really not much to say on this one. Overall, it's just another cliché-riddled found footage film, which is disappointing, considering

There's really not much to say on this one. Overall, it's just another cliché-riddled found footage film, which is disappointing, considering how much I was anticipating it, as well as its intriguing premise. Granted, there were a few intense moments here and there, but for the most part it felt kinda clumsy. Just rent it once if you're planning on watching it.

…

Expand

The same horror movie tricks every F*****g movie for the last 20 years! they need to lay off the indistry for a few years and come up with a

The same horror movie tricks every F*****g movie for the last 20 years! they need to lay off the indistry for a few years and come up with a GOOD idea AND story.

…

Expand

¿En serio? una película de terror en una cueva donde a lo unico que le temen son a sus traumas? ¿de donde viene eso? la película es una

¿En serio? una película de terror en una cueva donde a lo unico que le temen son a sus traumas? ¿de donde viene eso? la película es una tontería, no se explica, la trama es super sencilla, un grupo de personas va a explorar una cueva en busca de tesoros (la piedra filosofal) y resulta que esta maldita, ¿razones? ni idea, las muertes, los efectos, las actuaciones, el maquillaje, la fotografía... TODO PÉSIMO, no se entiende, aburre, los screamers son tontos, sin chiste, no asustan ni dan miedo, la claustrofobia que me tendría que dar no surge.
un fracaso TOTAL!

…

Expand