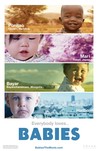 Summary:

The adventure of a lifetime begins... Directed by award-winning filmmaker Thomas Balmès, from an original idea by producer Alain Chabat, this film simultaneously follows four babies around the world – from birth to first steps. The children are, respectively, in order of on-screen

The adventure of a lifetime begins... Directed by award-winning filmmaker Thomas Balmès, from an original idea by producer Alain Chabat, this film simultaneously follows four babies around the world – from birth to first steps. The children are, respectively, in order of on-screen introduction: Ponijao, who lives with her family near Opuwo, Namibia; Bayarjargal, who resides with his family in Mongolia, near Bayanchandmani; Mari, who lives with her family in Tokyo, Japan; and Hattie, who resides with her family in the United States, in San Francisco. Re-defining the nonfiction art form, "Babies" joyfully captures on film the earliest stages of the journey of humanity that are at once unique and universal to us all. (Focus Features)


…

Expand
Director:

Thomas Balmes

Genre(s):

Documentary

Rating:

PG

Runtime:

79 min
Observant and funny and thoughtful too, powered exclusively by vérité footage without a word of narration, Babies is William Blake's Infant Joy brought to rich cinematic life.

This documentary on one of the most universal, photographed, analyzed, opined upon and slavered over human experiences manages to astound.

I don't think the movie is looking for answers; it isn't asking any questions. But by its very nature, this is both an experiment in ontology (do babies know they're babies?) and existentialism (are they thinking about who to be?).

But by not "saying" ANYTHING about the lives behind all the lovely, easygoing footage of infants making their way to their first steps and beyond, Babies feels a tad dodgy (and repetitive) by the hour mark.

Even I realize that other people's babies are boring. So is Babies.
The concept of the film was great, the execution was incomplete. They needed to include a bigger representation of babies across the globe.

The concept of the film was great, the execution was incomplete. They needed to include a bigger representation of babies across the globe. The lifestyle of the babies of third world countries were truly jaw dropping, and created a hunger to see more. It felt like a glimpse rather than a complete documentary.

…

Expand

This review contains spoilers, click expand to view.

At a party, in Max Mayer's "Adam", a proud mother tells Beth(Rose Byrne) and Adam(Hugh Dancy), "You gotta see the baby," then as a mere formality, asks, "Would you like to see the video?" Afflicted with Asperger's Syndrome, Beth's date answers, "No, thank you," because people with the autism spectrum disorder have a pathological need to be honest. "Babies" is Adam's worst nightmare; it's also a nightmare for people who despise reality-based TV programs such as "Jon and Kate Plus Eight" and the forthcoming Octomom series. Are babies being babies entertainment? No. The babies have to be entertainers, too. Accidental ones, that is. The scene in which Hattie(the San Francisco baby) eats it on her tricycle, face-first, is too YouTube for comfort. Bayarjagal(the Mongolian baby), whose mother allowed cameras in the delivery room, is still attached to an umbilical cord as a means of introducing himself, but thankfully, he's extrinsic to the vaginal aperture; no crowning. "Babies" is not a "sex hygiene" film like William Beaudine's "Mom and Dad"(1945), but the scene in which Bayarjagal's face gets sprayed with his mother's breast milk, the moviegoer suspects, is satisfying somebody's uneasy fetish. If Adam was a film critic, and had to comment on the maternal nudity in Nambia, he'd describe the southern African subcontinent footage as resembling something akin to a National Geographic special directed by Russ Meyer. Truth be told, Ponijao is constantly upstaged by his mother's enormous mammaries, whenever both the baby and the baby's lunch are in frame. Although "Babies" is not meant to be political, the moviegoer can imagine prospective parents wanting to adopt babies like Bayarjagal and Ponijao. Juxtaposed against the United States and Japan, the babies of Mongolia and Nambia have the appearance of being at a disadvantage.

…

Expand

This is an awesome documentary. we get to see how four babies from different parts of the world have the first experience basic emotions like

This is an awesome documentary. we get to see how four babies from different parts of the world have the first experience basic emotions like surprise, happiness, frustration, rage, boredom, even bullying! And we see how they naturally go through those first stages of self-discovery, social interaction and how they learn about the world around them. There really are no words that can do it justice.

…

Expand

This review contains spoilers, click expand to view.

If you're not raising a baby or enjoying new grandchild, you might find this underwhelming. At times it catches some lovely moments, but other times I felt uncomfortable to be watching other people's intimate interactions. It happened most often with the African family because the scene stayed pretty much the same and so did the interactions. Yes, the babies all developed from sitting to crawling to walking; yes they all went from inarticulate to beginning speech. So? Maybe I wold have liked to see more detail about one or two families. I thought it ended just when it needed to. I didn't want to watch any more.

…

Expand