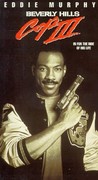 Starring:

Eddie Murphy

Summary:

Axel Foley is back tracking rumors of a counterfeit money ring operating out of a theme park. This time it's personal because the baddies involved killed his boss.
Director:

John Landis

Genre(s):

Action

,

Thriller

,

Comedy

,

Crime

Rating:

R

Runtime:

104 min
Please enter your birth date to continue:
You are not allowed to view this material at this time.
Landis's handling of the cop business is unnecessarily laborious, but Murphy's patented insincerity is winning. And a few of the slapstick set pieces are genuinely thrilling, especially a riotous nighttime chase scene.

The Beverly Hills Cop formula shows serious signs of wear in its third outing as Eddie Murphy tries desperately to hold onto his tough-guy, mock-grin edge while screenwriters and director John Landis do little more than stir-fry lame gags with furious but tiresome fusilades of gunfire. [25 May 1994, p.E1]

The comedy is mostly restricted to one-liners, some of which aren't funny. And the action is uninspired, barely tapping the vast potential of an amusement park chase film.

Beverly Hills Cop III is perhaps the dumbest of the cop trio. There are no surprises, there's no real police work to unravel, and there are no mysteries. It's all very predictable with lots of gunplay, noise, and blood. [3 Jun 1994]

Although the limits on Beverly Hills Cop III are pretty obvious, it's not a total write-off. Still, it's time to stop making movies about Murphy's Motown cop and start making one about Serge. [25 May 1994, p.69]

Whatever juice is left in the "Cop" franchise or in the once unstoppable career of Eddie Murphy peters out ignominiously in this poor excuse for a sequel.

Beverly Hills Cop III is made with so little spark, humor, and internal logic that it makes me better appreciate these other recent Murphy movies where the actor/comedian at least stretched his persona and attempted something apart from the action comedy mold.
Top film! really enjoyable and one that can be watched over again!

Beverly Hill Cop 3 is the worst of the Beverly Hills Cop franchise but it is still a really solid movie. It is definitely the most

Beverly Hill Cop 3 is the worst of the Beverly Hills Cop franchise but it is still a really solid movie. It is definitely the most appropriate and the least funny but I still love it. It does not deserve a 16 on Metacritic.

…

Expand

My god this movie got a 15 really it wasn't that bad at all I loved it when i was younger and watched it again recently and it still is awesome.

Really doesn't deserve its current rating. Not the best out of the series by far, but still an enjoyable film.

saw this movie its more kid friendly than the other 2 but its funny. somewhat enjoyable its honestly not that bad of a movie... idk why

saw this movie its more kid friendly than the other 2 but its funny. somewhat enjoyable its honestly not that bad of a movie... idk why reviewers gave it bad reviews theres obviously movies 10x worst. if youve seen the first 2 then this one will also be fun.

…

Collapse

As surely as if it were a McDonald's or a Burger King, "Beverly Hills Cop III" is part of a money-making franchise, though this one has been

As surely as if it were a McDonald's or a Burger King, "Beverly Hills Cop III" is part of a money-making franchise, though this one has been abandoned for so long it has cobwebs on top of cobwebs. It has been seven years since "Beverly Hills Cop II," and a decade since the blockbuster original. But recently Eddie Murphy's career has seen some box-office duds like "Boomerang," so it's no surprise that "Beverly Hills Cop III" has surfaced, a sequel designed to be as foolproof as possible. The strategy is to bring back familiar characters while throwing lots of cash and special effects at the screen.

This time Axel Foley, the Detroit detective who always outsmarts the villains and the laid-back Beverly Hills police, winds up in an elaborate California theme park called Wonder World, a front for a crime ring that also has the F.B.I on its trail. The film includes so many explosions, car chases, gunfights and other unnatural disasters -- all played with frenetic energy -- that it takes a while to realize something is off kilter besides the Tilt-a-Whirl. Axel has lost his sense of humor.

Every comic moment is cut short and even Mr. Murphy's smile seems forced. No longer the hero who hid behind a "Saturday Night Live" array of accents and a knowing grin, this Axel might as well be Axl Rose.

The opening sequence, set in Detroit, promises the high-voltage mix of humor and action that made the original "Cop" movies so popular. Axel and his men close in on a ring of car thieves. Inside the garage, the radio plays the Supremes' "Come See About Me," and the thuggish mechanics do a wicked lip-sync, complete with choreography and a strategic Diana Ross elbow to one of the backup singers.

Then, the episode takes off in an extended, violent scene that includes a couple of murders, many machine guns and a car chase in which the hood of Axel's car is blown off. As he accidentally runs over a body dumped from a moving truck, Axel gives a facial expression that says, "Whoops." It's irreverent and effective.

John Landis, who directed Mr. Murphy in "Trading Places" and "Coming to America," pulls out all the stops. But the action is never again as fast, furious or suspenseful as in the opening scenes.

And the few moments of genuine satire that follow make viewers realize what's missing. When Axel arrives at the gate of the Beverly Hills Police Department, he is greeted with an automated voice that offers to continue the message in English, Spanish, French or Farsi, and to direct him to the riot-rumor hot line.

The high point of the film belongs to Bronson Pinchot as Serge, the character with the tortured foreign accent who was a crowd pleaser in the original "Beverly Hills Cop." No longer working at the art gallery, Serge now owns a Survival Boutique, dealing in fashionable self-defense weapons, or as he puts it, "wee-pons." His sing-song sales pitch for items to foil car thieves: "Do you want to die for your Camry? I don't sink so."

Judge Reinhold returns as Axel's Beverly Hills police pal, Billy Rosewood, and Hector Elizondo is a new family-man character, replacing Sergeant Taggart in the earlier films. These men don't have much to do until the final shootout.

Playing it safe, "Beverly Hills Cop III" even uses the trendy ploy of dropping in celebrity cameos, including many directors. Among them is George Lucas as a patron Axel annoys by cutting in line at Wonder World, Barbet Schroeder as a man parking a Porsche, and John Singleton as a fireman. The founder of Wonder World, lovable Uncle Dave, is played by Alan Young, better known as the owner of Mr. Ed.

Mr. Murphy seemed to be having much more fun in the maligned "Boomerang." At least he tried something different there, playing a caddish romantic hero. "Beverly Hills Cop III" is a generic action movie, an Eddie Murphy film with only a trace of Eddie Murphy.

…

Expand

What happened? The first two (mostly the first one) was the start of a very promising series! In this one, the violence is very bland and the

What happened? The first two (mostly the first one) was the start of a very promising series! In this one, the violence is very bland and the plot is even more formulaic. And the bombshell is that Eddie Murphy didn't play the character like he did in the first two.

…

Expand