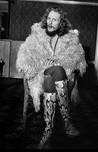 Starring:

Eric Clapton

,

Ginger Baker

,

Stewart Copeland

Summary:

Born in South East London the same week the Nazis began bombing, Ginger Baker's first memory was running after a train that carried his father off to death in WWII. From his music to his life, at the expense of family and fortune, Ginger would never be left behind on the tracks again. Though

Born in South East London the same week the Nazis began bombing, Ginger Baker's first memory was running after a train that carried his father off to death in WWII. From his music to his life, at the expense of family and fortune, Ginger would never be left behind on the tracks again. Though best known for his work with Eric Clapton in Cream and Blind Faith, the world's greatest drummer did not hit his stride until years later in 1972 when he drove the first Range Rover ever produced from London to Nigeria in pursuit of the African rhythms and musical icon, Fela Kuti. There he found his Mecca of drumming, introducing the African beat and "world music" to the West, years before any other musicians in the field. The documentary includes stories from his ex-wives, children, and many of the greatest living musicians that worked with Ginger including Eric Clapton, Steve Winwood, Charlie Watts, Mickey Hart, Carlos Santana, Max Weinberg, Chad Smith, Femi Kuti, Neal Peart, Simon Kirke, Marky Ramone and many more.

…

Expand
Director:

Jay Bulger

Genre(s):

Documentary

Rating:

Not Rated
Please enter your birth date to continue:
You are not allowed to view this material at this time.
The combination of compelling subject with an exciting and expert approach to documentary form achieves that transcendence you hope for in this genre: a melding of subject and text that is its own beast but also perfectly reflect each other.

Spitting obscenities at the film's director, Jay Bulger, Baker recalls his days as: the '60s thrash caveman who gave Cream and Blind Faith their transcendent power surge; the pioneer of druggy hotel-room rampages; and the damaged purist who left the pop world for Africa. The movie salutes the rhythms and the wreckage.

In spite of Bulger's errors of tone, the movie stands as an engaging tussle with the question of what is permissible with the excuse of art. One former collaborator of Baker's, John Lydon (a/k/a Rotten), comes up with the most eloquent absolution: "I cannot question anyone with end results that perfect."

This is warts and all, with the emphasis on the warts.

Mr. Bulger, a former boxer and model before he turned to journalism and then filmmaking, does not let "Behind the Music" sensationalism overwhelm the music itself, which is Mr. Baker's great passion and the only reason anyone should take an interest in him.

Miserable individuals do tend to make for interesting subject matter, and this would be far more of a dry biography without its willfully eccentric lead. Plus, if the crankiness gets to you, tune it out and focus on the music. That's what Clapton did.