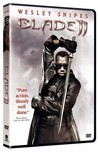 Starring:

Kris Kristofferson

,

Wesley Snipes

Summary:

Wesley Snipes returns as Blade, the Marvel Comics half-human, half-vampire character he vividly brought to life in the 1998 hit film of the same name. (New Line Cinema)
Director:

Guillermo del Toro

Genre(s):

Action

,

Adventure

,

Thriller

,

Fantasy

Rating:

R

Runtime:

117 min
Please enter your birth date to continue:
You are not allowed to view this material at this time.
To appreciate the movie, you have to be okay with vampire violence. I don't mean subtle little nips at the neck and, ooooh, it's directed by Werner Herzog.

The drawing card for Blade II is -- the promise of a blood-soaked action/horror thrill ride, and Snipes and Del Toro get the down-and-dirty job done with style.

May be too grisly to extend its appeal beyond its fan base.

Suffers from way too many fight scenes that last way too long and look way too computer-generated.

The sequences are handsomely designed, but frankly, you might as well be watching someone play a video game.
Blade 2 is just as good as Blade 1. The action is great and plentiful as in the first movie. However this time,
the style of the actionBlade 2 is just as good as Blade 1. The action is great and plentiful as in the first movie. However this time,
the style of the action scenes is different because the director is different. The director of Hellboy directed
Blade 2 and he turned the movie into an action masterpiece. He was a great choice to direct the sequel,
I would've chose him in a second.

…

Expand

Sometimes when an actor turns to directing, the results can be disastrous, such as Dana Plato's helming an episode of Cops, with tragic

Sometimes when an actor turns to directing, the results can be disastrous, such as Dana Plato's helming an episode of Cops, with tragic consequences. But just a year after winning the award for Best Supporting Actor for Traffic, Guillermo del Toro has gone behind the camera with remarkable success, in Blade 2. The movie occasionally shows some "newbie jitters" (what we call it when the newest person on my Babylon 5 chat group erroneously refers to the Minbari as "Klingons," or to the rest of us as "dorks"), but it's a really great movie in most ways.

…

Expand

This offers without a doubt one of the greatest cinematic action experiences of all time. Wesley Snipes IS Blade and Del Toro's vision

This offers without a doubt one of the greatest cinematic action experiences of all time. Wesley Snipes IS Blade and Del Toro's vision is brilliant.

…

Expand

The start of something great (Orginal Blade) just changed tone and downgraded to good.

What I like about Guillermo Del Toro is that every movie he makes has beautifully gruesome visuals that overrides all the cons of the movie.

What I like about Guillermo Del Toro is that every movie he makes has beautifully gruesome visuals that overrides all the cons of the movie. "Blade 2" is a good example im talking about.

…

Expand

A good example of a can't-miss proposition that missed by a wide margin, 1998's Blade had all the makings of a terrific B-movie, from its

A good example of a can't-miss proposition that missed by a wide margin, 1998's Blade had all the makings of a terrific B-movie, from its comic-book pedigree to its elaborate vampire mythology to Wesley Snipes' Shaft-meets-Blacula protagonist. A surprise hit, it was nowhere near as much fun as it should have been, mainly because it took itself way too seriously, a problem epitomized by Snipes' humorless lead performance. Snipes returns to vampire-slaying duty in Blade II, and while he still cuts a grim figure, he's surrounded by a film that's everything Blade should have been but wasn't: stylish, fast-paced, and comfortable with its own ridiculousness. Taking place two years after the original, Blade II finds Snipes' half-human, half-vampire warrior fighting a new enemy: a vampiric super-sect so dangerous and feared that even the malevolent vampire establishment wants it destroyed. Having devoted his life to fighting vampires, Snipes is understandably reluctant to aid his hated foes, but agrees to help destroy the new breed before it can take over the earth. Kris Kristofferson returns to play gruff-old-coot mentor to Snipes' semi-undead cowboy, and they're joined by a scene-stealing Norman Reedus as Snipes' stoner sidekick and Ron Perlman as an arrogant vampire who battles with Snipes for alpha-vampire status. Blade II's dialogue tends toward the arbitrary, but it's spiked with occasional bursts of wit. The combative relationship between Perlman and Snipes likewise gives the film a much-needed injection of droll humor, while Kristofferson and Reedus make striking impressions with minimal screen time. The film's plot functions as little more than a loose framework for impressive setpieces and energetically choreographed martial-arts sequences, but director Guillermo del Toro (The Devil's Backbone, Mimic) keeps things moving so quickly and looking so good that it barely matters. The world can always use another entertainingly trashy B-movie, and Blade II fits the bill.

…

Expand

Critics have often noted Blade 2 as the superior film in the franchise, I disagree. The amount of poorly done computer effects, overflow of

Critics have often noted Blade 2 as the superior film in the franchise, I disagree. The amount of poorly done computer effects, overflow of characters and script make this film a lot to be desired.

…

Expand