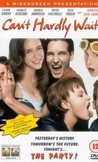 Starring:

Jennifer Love Hewitt

Summary:

A teen-age romantic comedy set amid a night of wild partying in honor of high school graduation.
Please enter your birth date to continue:
You are not allowed to view this material at this time.
For all its nonstop energy and high spirits, Can't Hardly Wait allows its characters to emerge as fully dimensional individuals; they've been written with care and perception and played with equal aplomb by a roster of talented young actors.

Can't Hardly Wait has freshness, comic invention and an engaging romantic spirit.

[The writers/directors] show easygoing humor and the wisdom to borrow well. Their film at various times recalls tenderhearted coming-of-age comedies from "American Graffiti" onward, with strong homage to the works of Cameron Crowe, Amy Heckerling and John Hughes.

Instead of bringing intriguing characters with real problems and interesting dialogue to the bash, Kaplan and Elfont take the lazy approach of pulling generic stereotypes off the shelf and throwing them into a formulaic plot that doesn't offer one genuine surprise or meaningful moment.

[The soundtrack] manages to serve up new rock, eighties dance music, rap and Barry Manilow -- a combination custom-made to annoy audiences of all ages.

Seeing gawky Charlie Korsmo, one-time movie moppet, as a superbrain whose introduction to alcohol leads him to do a rip-roaring rendition of Guns N' Roses' Paradise City, is worth a smile or two. But even that can't save [the] film.

True to the film's name, there is one thing I couldn't hardly wait for, and that's the closing credits.
The movie is enjoyable with his cliché characters and his predictable story.A lot of well-known actors are in this movie.The movie is funny

The movie is enjoyable with his cliché characters and his predictable story.A lot of well-known actors are in this movie.The movie is funny and the actors are really good.

…

Expand

While it was thoroughly enjoyable to see several notable actors (Jennifer Love Hewitt, Seth Green, Freddy Rodriguez, Donald Faison, Jaime

While it was thoroughly enjoyable to see several notable actors (Jennifer Love Hewitt, Seth Green, Freddy Rodriguez, Donald Faison, Jaime Pressly, Jason Segel, Selma Blair, Breckin Meyer, Jenna Elfman, Jerry O'Connell) either in small roles or before the height of their fame, this movie was just about as predictable as can be. That however, does not mean it wasn't enjoyable, just not particularly inspired.

It's a decent movie overall with some laughs and genuine moments, just don't expect to be blown away.

…

Expand