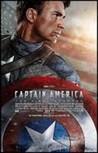 Starring:

Chris Evans

,

Hugo Weaving

Summary:

Captain America: The First Avenger will focus on the early days of the Marvel Universe when Steve Rogers volunteers to participate in an experimental program that turns him into the Super Soldier known as Captain America. [Paramount Pictures]

Director:

Joe Johnston

Genre(s):

Action

,

Adventure

,

Sci-Fi

,

Thriller

Rating:

PG-13

Runtime:

125 min
Please enter your birth date to continue:
You are not allowed to view this material at this time.
Captain America: The First Avenger is one of the finest movies yet from Marvel Studios, and a big departure in tone and storytelling from most of the films they've made so far. It is a strong indicator that the more willing the studio is to experiment, the more exciting the payoffs can be.

The best kind of comic-book movie. It's stylish and spectacular, yet it's rooted in history and human emotions. It's smart yet it's funny. It's wise yet it kicks ass when it has to. Just like the U.S. of A.

Captain America is exactly what the third week of July needed: a curiously fun, surprisingly imaginative and unashamedly old-fashioned yarn of skulduggery and adventure.

On its own, Captain America is a modestly engaging little-big movie in the median range: well below the first "Iron Man," somewhat above "X-Men: First Class."

From its antagonists to its art direction, everything about Johnston's movie has a been-there, seen-that familiarity. Yet Evans' clean-cut idealism and objectives make old-fashioned patriotism look fresh.

Captain America: The First Avenger is all utility. It has everything you might want from a movie of this kind — bangs, baddies, nonsensical backstories — except for the most important element of all: surprise.

Captain America is simply awful. It is another hour and a half of prologue to the film people are apparently waiting for - The Avengers.
I go to the movies almost every week, some weeks I go more than once. I must say this summer has been full of disappointments. I was getting

I go to the movies almost every week, some weeks I go more than once. I must say this summer has been full of disappointments. I was getting so upset at all the big summer movies being ok at best, but then Captain America comes along and blew me away! The movie moves at a fantastic pace with the right mix of action, comedy, drama and romance to interest almost everyone. This is one of 4 movies this summer that is movie perfection. With Super 8 and X-Men out of theaters and since everyone has seen Harry Potter then this is the movie to see. I couldn't have liked it more!

…

Expand

It is great movie!! It is very interesting and excited for me.
This movie is a little bit love story.
Finally, I was a little bit tears. IIt is great movie!! It is very interesting and excited for me.
This movie is a little bit love story.
Finally, I was a little bit tears. I want to watch again in Japan.

…

Expand

The girlfriend & i found this movie to be really enjoyable.I'm a big fan of Captain America,always have been,but i admit i was a little

The girlfriend & i found this movie to be really enjoyable.I'm a big fan of Captain America,always have been,but i admit i was a little disappointed when i heard this film was set entirely in World War 2.I know thats the time he comes from,& was expecting to see that,but thought at least half the movie would be set in the modern day.. But when i saw the movie,i appreciated that having almost the whole thing in WW2 allows you to get to know that Cap better about the kind of person he is,& the era he's from,with a totally different way of life.It also allows us to see the Howling Commandos in action as well as Dum Dum Dugan & seeing Tony Starks father,Howard Stark.It made me appreciate more also,the way that Cap was a man ahead of his time,being one of the first Super Heroes.I thought the film had alot of heart,& i liked all the main characters,as they all bought something to the story.So as it goes,i REALLY enjoyed the whole WW2 era in the movie,& it was all done really well,but part of Captain Americas origin is the fish out of water/man out of his time part,which wasnt really covered in this movie,so that important part of Cap's story is going to be have to squeezed into & shared along with the other Avengers.I hope Weedon can do him justice under those conditions still,time will tell.Avengers will be epic i'm sure,but i'm not sure its fair on us Cap fans,to have the remainder of his origin story squeezed in with the big events & many other characters that are going to be in the Avengers.Great film though.

…

Expand

This movie, although it follows a somewhat cliche underdog superhero plot, is still excellent. With decent acting all around and a few

This movie, although it follows a somewhat cliche underdog superhero plot, is still excellent. With decent acting all around and a few performances that truly stand out, the cast is satisfactory. The action sequences are explosive, intense and exciting and there is a respectable amount of character development and witty lines along the way. I laughed quite a bit at some moments, and the action kept me on the edge of my seat, while some scenes seemed bland or uninteresting, but overall, I would highly recommend this movie as a cliche superhero action movie (with a few laughs).

…

Expand

This review contains spoilers, click expand to view. While I have spent most of my youth engrossed in the events of X-Men, Captain America (and the Avengers) are a fairly unknown territory for me. However, after falling in love with Iron Man and always harboring a love for Marvel's heroes, I had to check this one out.

It does more than just delivers a prequel to the upcoming Avengers movie; it tells us how Steve Rogers, a small, sickly little man becomes the face and spirit of American warriors - for America is in war, and needs a hero badly to inspire her people.

Steve's continuous struggle to become that hero is admirable, and when he is given the chance to become the first super soldier - at the risk of his own life - he is all too willing to take it. Backed up by Peggy Carter, a stiff army official who cannot risk actually showing her emotions for the new recruit, he undergoes a transformation that makes Steve all he ever wanted to be, now in body as well as in mind.

If only it were that easy; Steve's left hanging immediately post-transformation, and Captain America is born to do commercial work rather than fight beside the brave men in the real war.

When Red Skull (Hugo Weaving) begins strengthening his own army with an unknown power that is either science or magic - or both - Captain America rises to the challenge to finally do what he has yearned to do for most his life; protect his fellow men, and help right triumph over wrong.

Visually, the movie was just about everything you have come to expect from today's superhero films. The characters were not hollow, making you care for them, although they did not spend too much time focusing on those outside the limelight (like the Howling Commados).

The story was a bit slow at places, but kept moving steadily forward. They showed surprisingly little of the present day, but that continues rather directly in the upcoming Avengers movie.

…

Expand

The film is a solid motion-picture event. It has "make me impressed" written all over, and in eye-popping 3D. But Captain America never tries

The film is a solid motion-picture event. It has "make me impressed" written all over, and in eye-popping 3D. But Captain America never tries to go beyond. And it's globetrotting script reveals that the script doesn't have much to show, in which the movie let's visuals take over. In the end, it's what you would expect. And not for the better...

…

Expand

This review contains spoilers, click expand to view.

I love action, I love fiction and I love a passionate story. Mix it all and a movie should receive 5 or more points. Captain America failed in all mentioned categories. Its not its spider-man-like story: good loser turns into super hero why the story became an abomination: Its just that it is predictable: The brave scientist which gets shot, the best friend which can not be saved although mighty Cptn. is super strong, the only girl in the story is the heros passion. Now add some James Bond gadgets coming from nowhere and you have an invincible hero. Not that they at first have to fight enemies with über-guns, they werent even surprised by what the enemy threw at them. Alas the bad guy could have saved the movie, but it was just too obvious that the impersonation of evil was played by "Mr. Smith" from Matrix: He looks like him, he acts like him, and even his metamorphosis to a red-skinned-something was just invented to pretend to have a real bad ass. In fact the bad guys act as stupid as the good guy and are nothing but cannon fodder. What was wrong with the fiction: Bad guy made through almost the same as the good guy to get his evil powers. Only difference one has a pure heart the other has not. Bad guy discovers a divine energy thingy but this does not help him either. It was just put into the movie to be able to make up some special FX with laser guns which would not have been common at the time the movie plays. The only thing needed for the good guys to block the special FX weapon is a shield from a metal which you never-heard-before and is indistructable. Funny thing: Its painting looks worn out after being shot at some times. So if you saw Matrix 3 and liked the movie because of the action, well this is what was good about Matrix 3. Cptn. Americas action is about a guy sneaking into an enemy base with a stars-and-stripes-painted shield - at least it wasnt glowing - and then beating up all enemies. Every 5th enemy is hit by the shield which behaves like a boomerang and returns to Cptn. America just in time to block the next blow. Btw. the only thing the Cptn. is afraid of is not the super powers of the enemy, nor the mysterious weapons which can dematerialize you within an instant when being hit, no, its flame throwers which make him duck and cover. At least: if you still want to watch the movie: look out for about its three funny scenes. Its not that its worth seeing them, its just makes you hope that there will be more.

…

Expand