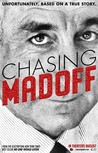 Summary:

Chasing Madoff is the compelling story of Harry Markopolos and his team of investigator's ten-year struggle to expose the harrowing truth behind the infamous Madoff scandal. Throughout the decade long investigation, Markopolos pieced together a chain if white-collar predators consisting of

Chasing Madoff is the compelling story of Harry Markopolos and his team of investigator's ten-year struggle to expose the harrowing truth behind the infamous Madoff scandal. Throughout the decade long investigation, Markopolos pieced together a chain if white-collar predators consisting of bankers, lieutenant, and henchmen, all linked to the devastating Ponzi scheme. With risk and danger apparent, Markopolos and his loyal team relentlessly continued to pursue the frightening truth. Finding himself trapped in a web of epic deceit, the once unassuming Boston securities analyst turned vigilante now feared for his life and the safety of his family, as he discovered no one would listen. (Cohen Media Group)

…

Expand
Director:

Jeff Prosserman

Genre(s):

Documentary

Rating:

Not Rated

Runtime:

98 min
Please enter your birth date to continue:
You are not allowed to view this material at this time.
Jeff Prosserman's riveting documentary takes a question that haunted the Bernie Madoff scandal - how did he fool everyone for so long? - and answers it with a decisive "He didn't."

In a sense, this is not a financial thriller so much as a financial mystery. Which gets a bit lost in the movie's stylized presentation.

The movie ends in bitterness. Unable to prevent catastrophe, the most honorable man in this entire affair - an outcast among frauds and the cannily acquiescent - considers himself a failure.

Chasing Madoff is mostly that sort of movie, the kind you make when all you've seen is other movies and television shows about crime, when you want someone to know what you can do with a juicy story that takes some effort to ruin.

The film is frustratingly uneven in its presentation.

Chasing Madoff is a useful reminder that all is far from well with our financial institutions, which continue to lobby for less regulation rather than more. But the human element of the film is so weirdly distracting it often deflects from its primary target.

The fawning personal-life segments are overdone, and undermine the film's compelling reportage about Madoff's ruse and downfall.
A must-see documentary, mind-blowing by it's content, which is sadly hurt by a messy construction and an over-the-top melodramatic tone. The

A must-see documentary, mind-blowing by it's content, which is sadly hurt by a messy construction and an over-the-top melodramatic tone. The story being told was already powerful enough to spare some intense close-ups or reenactments. The Filmmaker's choice to solely focus on the "hunters team" and thus telling so little about Madoff himself was a brave one that turns out to pay off, as it helps create this mystical and unreal status Madoff did enjoy during the decade preceding his fall.

…

Expand

This movie made no sense. Jeff Prosserman's misunderstanding of the story, characters and the event is perplexing. The cheesy, overdone,

This movie made no sense. Jeff Prosserman's misunderstanding of the story, characters and the event is perplexing. The cheesy, overdone, superfluous effects paired with the knock-off Phillip Glass score (the film's only savior) makes this noir documentary a bad comedy. It's a shame too, the idea is a good one. The director: not such a good one.

…

Collapse