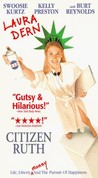 Director:

Alexander Payne

Genre(s):

Drama, Comedy

Rating:

R

Runtime:

106 min
A deft, three-dimensional performance from Dern, playing an almost entirely unlikable character, aids incalculably in exposing what happens when political factions lose touch with the realities of the issues for which they claim to provide answers.

Citizen Ruth takes such pains not to take sides that it doesn't have any fun. Each faction gets the same amount of screen time, yells at the same volume, is equally unpleasant.

The film degenerates into an overly simplistic satire -- with moon-worshiping, Guatemala-visiting, lesbian aborters on one side, and fetally obsessive, meat-eating, gun-toting Jesus worshipers on the other.