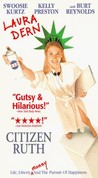 Director:

Alexander Payne

Genre(s):

Drama

,

Comedy

Rating:

R

Runtime:

106 min
Is it really possible to make a comedy about abortion? Alexander Payne, who cowrote and directed this mischievous bit of sociological screwball, has brought it off.

Brave, funny and thoroughly irreverent.

Alexander Payne's equal-opportunity satire persuasively argues that no ideological group has a lock on "values" or "correctness," and reminds us that fanatics can be found on every side of an issue.

Payne cannot shape or propel his own good material. He lets things dawdle when briskness would be a boon, and defeats the gung-ho efforts of Dern and other worthy actors. [9 December 1996, p.82]

Citizen Ruth takes such pains not to take sides that it doesn't have any fun. Each faction gets the same amount of screen time, yells at the same volume, is equally unpleasant.

The film degenerates into an overly simplistic satire -- with moon-worshiping, Guatemala-visiting, lesbian aborters on one side, and fetally obsessive, meat-eating, gun-toting Jesus worshipers on the other.
Brilliant laugh out loud satire on both sides of abortion 'debate' in 1990s USA. You don't need to be interested in abortion politics to get a

Brilliant laugh out loud satire on both sides of abortion 'debate' in 1990s USA. You don't need to be interested in abortion politics to get a kick out of this movie. Recommended for fans of intelligent humor.

…

Expand