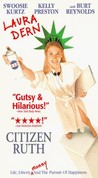 Director:

Alexander Payne

Genre(s):

Drama

,

Comedy

Rating:

R

Runtime:

106 min
Is it really possible to make a comedy about abortion? Alexander Payne, who cowrote and directed this mischievous bit of sociological screwball, has brought it off.

Both Fellini and Woody Allen have remarked that casting is 90 percent of directing--and Citizen Ruth bears witness to that notion. While this is primarily Dern's show, the casting is perfect all around.

An equitably rude comedy about abortion, brazen by definition but also fairly droll. It's probably too schematic to reward more than a single viewing, but as a provocative one-time surprise it may become a specialized sleeper. [13 December 1996, p.4D]

Citizen Ruth takes such pains not to take sides that it doesn't have any fun. Each faction gets the same amount of screen time, yells at the same volume, is equally unpleasant.

Payne cannot shape or propel his own good material. He lets things dawdle when briskness would be a boon, and defeats the gung-ho efforts of Dern and other worthy actors. [9 December 1996, p.82]

Payne is just as guilty of using her (Ruth) as a figurehead for his ideas--most of them about the stupidity and futility of politics--as are the targets of his satirical abuse.