Release Date:

Apr 9, 2010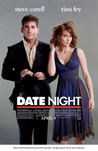 Starring:

Mark Wahlberg

,

Steve Carell

,

Tina Fey

Summary:

Steve Carell and Tina Fey team up for an adventure that turns a run-of-the-mill married couple's date upside down - way upside down, in Date Night. (20th Century Fox)
Director:

Shawn Levy

Genre(s):

Thriller

,

Comedy

,

Romance

Rating:

PG-13

Runtime:

88 min
Please enter your birth date to continue:
You are not allowed to view this material at this time.
All the time Phil and Claire seem like the kind of people who don't belong in a screwball comedy. That's why it's funny. They're bewildered.

Regardless of the silliness of the situation -- or, in truth, because of it -- they're a joy to watch.

Stay for the outtakes – they're improv delights, suggesting the movie that might have been if they had just left it all to Carell and Fey.

The trouble is, too much of director Shawn Levy's '80s-ish lark is filled with noise, when it really needed more quietly silly stuff.

Director Shawn Levy delivers his usual middle-of-the-road product.

A broadly promising premise and well-matched stars prove no match for an abominably unfunny screenplay and the work of the poisonously untalented Shawn Levy--arguably the worst director making big-budget studio films today.
Don't believe the negative reviews. This is a berry funny movie. Trust me; I know comedy. This was good.

One of the funniest movies i`ve seen in years. Carell and Fey are a fantastic on-screen couple and their escapade is highlighted like a Woody

One of the funniest movies i`ve seen in years. Carell and Fey are a fantastic on-screen couple and their escapade is highlighted like a Woody Allen/ Coen Bros cut `N` shut. Some of the hand-over-mouth funniest set pieces and one of the best chase scenes of recent memory. Oh and robot pole dancing?!!! Fantastic stuff.

…

Expand

Yeah, honestly, you can tell people were purposely trying to bring the user rating down. It was at like 3.2 on the day it opened, but no one

Yeah, honestly, you can tell people were purposely trying to bring the user rating down. It was at like 3.2 on the day it opened, but no one was posting reviews. Anyways, this movie works pretty well considering the history of the director. It was riding that thin line between stupid and too stupid. But it succeeded, mostly because the movie was focused on the two leads, who have great chemistry.

…

Expand

A married couple (Steve Carrel and Tina Fey) stuck in the routine of life with two kids and separate jobs, have hit a rut. They have their

A married couple (Steve Carrel and Tina Fey) stuck in the routine of life with two kids and separate jobs, have hit a rut. They have their same date night, at the same restaurant, with the same meals and the staff knows their names. They yearn for more, but seem to have lost the ability to really connect with each other. After hearing their close friends, who they thought had a great marriage, are splitting up, they decide to have a fancier date night in the big city. They take a reservation at a fancy restaurant for a couple that didnâ

…

Expand

Overall, not bad. Some clever lines and clever writing, however some slow lulls in the middle of the movie. A few lines were so funny that you

Overall, not bad. Some clever lines and clever writing, however some slow lulls in the middle of the movie. A few lines were so funny that you couldn't help but laugh out loud, and of course Tina Fey is always a delight.

…

Expand

Funny, but not that funny. Some parts were good, such as the banter between Taste and Whippit. Other parts were just awkward, such as the

Funny, but not that funny. Some parts were good, such as the banter between Taste and Whippit. Other parts were just awkward, such as the terribly exaggerated car chase scene (I do realize this is a comedy and not true to any realism, necessarily, but that scene was just over the top), which could have been alright had it been funny, but sadly it was not. All in all, the movie was alright seeing as I had no expectations and no prior glimpse of the plot. In actuality, the plot would make for a very good action movie, as I was genuinely surprised by the twist at the end - however, that twist does not belong in a comedy.

…

Expand

This movie was excruciatingly bad. Tina Fey and Steve Carell have been funny ... but not here (Tina Fey's portrayal of Sarah Palin, for

This movie was excruciatingly bad. Tina Fey and Steve Carell have been funny ... but not here (Tina Fey's portrayal of Sarah Palin, for example). This is the only movie in my life where I looked at my watch to see how much longer this dog was going to bark. James Franco and Mark Wahlberg give adequate performances.Not even they could save this mess. There were twenty seconds of almost amusing outtakes at the very end as the credits mercifully rolled.

…

Expand