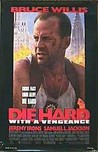 Starring:

Bruce Willis

,

Jeremy Irons

,

Samuel L. Jackson

Summary:

In this third installment of the Die Hard series, hard-luck New York cop John McClane realizes once again that trouble always has a way of finding him. This time it comes in the form of Simon, whose brother Hans Gruber was the villainous mastermind killed by McClane in the first "Die Hard."

In this third installment of the Die Hard series, hard-luck New York cop John McClane realizes once again that trouble always has a way of finding him. This time it comes in the form of Simon, whose brother Hans Gruber was the villainous mastermind killed by McClane in the first "Die Hard." (Fox)

…

Expand
Director:

John McTiernan

Genre(s):

Action

,

Thriller

,

Crime

Rating:

R

Runtime:

131 min
Despite a final, tacked-on helicopter denouement, it remains a gripping, relentless, supercharged slab of fun that knows no bounds - New York is its playground and the sky's the limit.

Director John McTiernan outdoes the previous "Die Hards" (McTiernan directed the first, Renny Harlin the second) with machinery, stunts, noise, bullets and guts. Hand-held camerawork tweaks the audience's sense of anxiety further, and for the most part it works well.

It's a tense, terrifically funny action dazzler with a wow level in special effects that will be hard to top.

So little wit is expended on the dialogue and so much on the imagination of disaster that you may as well sit back and enjoy the jolting ride.

The movie turns two hours of bombings, subway crashes, car chases and helicopter pursuits into the ultimate roller-coaster ride.

The "Die Hard" series was never exactly big on nuance, but this new installment relentlessly zeros in on sensation. It's almost sadistically single-minded. [19May1995 Pg.F.01]

But Die Hard WAV lacks the freshness of its two predecessors: we've had it with gassy police psychiatrists and supersmart terrorists.
This review contains spoilers, click expand to view.

From the star of Blind Date, the first two Die Hard flicks, and Pulp Fiction comes this masterpiece that will blow your mind. Detective McClane and an shopowner named Zeus Carver track down the mysterious Simon, who is Hans Gruber's brother (if you didn't understand that part you need to see the first one as well) and an soldier. Simon's plan is to destroy McClane, but he should have known he's an lethal weapon with an side of amazing skills and dangerous power. Can McClane catch Simon before he bombs an school hidden somewhere in New York?

…

Expand

The "Yippy Ki Yay" is used at the right time. Die Hard With a vengeance was pure perfection from beginning to end. Samuel l Jackson makes the

The "Yippy Ki Yay" is used at the right time. Die Hard With a vengeance was pure perfection from beginning to end. Samuel l Jackson makes the perfect partner in race against the time gritty thrillers. Hooking from the begging.

…

Expand

the first film was great the second one was eh. the third one brings us back to where this series should be . willis and jackon are a great

the first film was great the second one was eh. the third one brings us back to where this series should be . willis and jackon are a great and funny team . lots of funny moments and some great action . one of the few sequels that didnt disappoint.

…

Expand

better than die hard 2, but not better than the orignal still way better than most action movies out there.

So once again we are in the company of John McLean, and what a ride we are in for! You all know the premise by now it is John against the

So once again we are in the company of John McLean, and what a ride we are in for! You all know the premise by now it is John against the odds. This movie is both a return to the spirit of the original movie in that it

…

Expand

Call me crazy, but I think this movie marked a big step forward for the John McClane Die Hard series and a story that hits just as hard as the

Call me crazy, but I think this movie marked a big step forward for the John McClane Die Hard series and a story that hits just as hard as the others before it. John McClane is a mess and has lost his wife and family. All he has is his job. So why would a German terrorist want him to suffer and or die, especially at the expense of others? For whatever the reason, some crazy terrorist is making John play a game while he works his own schemes on New York City. McClane must use his brain to see through the wiles and still come out as the hero. He will need help though, and he gets it. Some people like to rag on this one because it is about terrorists/thieves again. I mean yes, it is, but if it is just as clever as the prequels while bringing new dynamics in as far as scale, and characters, why mess with the formula? It works. I think the biggest gamble was Samuel L. Jackson being the partner/side-kick to Willis. Based on the ability Bruce has to be the lone wolf, adding someone next to him could ruin the vibe but it worked. Sam did it well delivering a memorable performance and making sure the human reasoning isn't lost among the explosions and shooting. They just got this down, if John McClane can stay this good and entertaining as a character and somehow keep making it through these crazy situations without getting ridiculous and unreal, why stop? Good job, worth a watch.

…

Expand

No deja de ser divertida y que te deja prendido al sillón, pero es la más flojita de la serie. No es el clásico estilo de la saga "Die Hard".

No deja de ser divertida y que te deja prendido al sillón, pero es la más flojita de la serie. No es el clásico estilo de la saga "Die Hard". Hay pocas escenas de tiroteos masivos como nos tenían acostumbrados hasta este momento. Luego en la 4, vuelven ese tipo de cosas que en esta no vemos.

…

Expand