Release Date:

May 9, 2003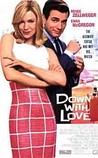 Starring:

David Hyde Pierce

,

Ewan McGregor

,

Renée Zellweger

Summary:

An old-fashioned romantic comedy with a twist. Putting a hip spin on the golden age of the classic Rock Hudson-Doris Day comedies, the film is the story of a sparkle-filled collision between a woman who has sworn off love and a ladies' man who thinks he doesn't need love. (20th Century Fox)
Director:

Peyton Reed

Genre(s):

Comedy

,

Romance

Rating:

PG-13

Runtime:

101 min
A very smart, very shrewd movie, and the smartest, shrewdest thing about it is the way it masquerades as just a fluffy comedy, a diversion, a trifle.

May register most immediately as a snappy whirl of visual gags, double entendres, overheated romance, and comically oversized living quarters, but beneath the exuberance of this fond counterfeit is a heartbeat as powerful as that of any film anchored in the present.

The chief casualties are the good actors, who are forced to turn themselves into cartoons.

What starts as freshly spun cotton candy ends as something pink, sticky and indigestible. You leave the theater wanting to puke it up.

Director Peyton Reed gets the film's look and, in moments, its disingenuous innocence, but you have to wonder what he and the screenwriters, Eve Ahlert and Dennis Drake, thought they were parodying. The actors clearly haven't a clue.

Down With Love has little to offer besides hip sixties references better films have already made and made infinitely more hip.