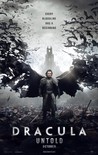 Director:

Gary Shore

Genre(s):

Action

,

Drama

,

Fantasy

,

Horror

,

War

Rating:

PG-13

Runtime:

92 min
As effective and fat-free as its sinewy star, Luke Evans, Dracula Untold proves an absorbing, swiftly comprehensive origin tale.

The good news barely outweighs the bad in Dracula Untold, a lightweight war-adventure that is ultimately stranger and more enticing when it remembers it's also a horror film.

He's a romantic and a psychopath and creature of the night. Sadly, Dracula Untold, with its humorless aura and been-there-done-that feel, doesn't allow Evans to inhabit many of these aspects. Instead, Dracula Untold feels largely uninspired.

It's no-frills, B-movie modesty might have been winning, if it weren't so dashed-off.

Looking for plausibility in a movie called Dracula Untold is as pointless as looking for humor or personality in Mr. Evans's dour performance.

The origins story Dracula Untold is Dracula unbold — unoriginal, unimaginative and utterly non-unprecedented. This Vlad the Impaler has all the edge of Vlasic the pickle.

Drab, silly and mind-numbing, this Dracula is strictly for the suckers.
If you like Dracula movies, this gives a nice entertaining twist on the Dracula, almost restoring his reputation as a person who had a reason

If you like Dracula movies, this gives a nice entertaining twist on the Dracula, almost restoring his reputation as a person who had a reason to do bad things for a good reason. But the best thing about the movie is Luke Evans. He's got such a strong pretense! Almost handsome, but what's more important is how strong he looks. Someone you would trust if he asked you to. If he is our first gay actor to make it as a leading man, it's because he's so manly looking and both men and women will love him. We shall see if this is the beginning of a leading man career for him. I've noticed him before, and he stands out in smaller roles. Zachary Quinto is the cerebral type, Luke Evans is sexy. He was also believable as to his extreme love for his wife. She was good too, but Luke is a standout!

…

Expand

Terrifiic! Awesome! Done research on the historical personage of Vlad the Impaler & have of course read numerous vampire novels... wasn't

Terrifiic! Awesome! Done research on the historical personage of Vlad the Impaler & have of course read numerous vampire novels... wasn't jazzed about a hollywood movie trying to combine the two because they usually cannot do it well. I was entertained & excited. Luke Evans was amazing in the Hobbit series and I was thrilled to see him starring in this. He gave a softer side (if there could be one) of the image of Vlad the man, a romantic husband & loving father and yet a ruthless leader when he needed to be.
A great, entertaining twist on on old tale.. very enjoyable....
And.. of course the critics ripped this movie apart. Which just goes to show the entire role of movie critics is outdated & needs to be abolished. This movie was not meant to be an oscar winner... it's not meant to change lives.... just entertain. Your hoity-toity, stuffed shirt, stick-up-the-butt reviews just ruin fun cinema for the rest of us. Get a real job.

…

Expand

This is another one of those movies that a lot of people hate, but if you like it, you probably liked it a lot. I know I did. The characters

This is another one of those movies that a lot of people hate, but if you like it, you probably liked it a lot. I know I did. The characters are a bit bland and one note, but what's there works, and you get very enthralled by the universe. There aren't any exciting plot twists and the real fun is watching it get there. It's not challenging, it's not groundbreaking, but it's a good start to what looks like a fun series of movies. Give it a shot, I'm glad I did.

…

Expand

I don't usually bother writing reviews but in this case I feel I must. Having read the other reviews on this movie and then seeing the movie,

I don't usually bother writing reviews but in this case I feel I must. Having read the other reviews on this movie and then seeing the movie, it's pretty apparent that people are getting confused with what this movie is.
Let's start with the fact that it's not a historical biography. Dracula is a fictional character and while there was a Vlad the Impaler in the annals of history, he certainly did not seek the help of a demon possessed monster. Other reviewers have remarked on the how a whole country of people suddenly fit in a monastery. This is clearly explained in the movie that only a certain number of people are going for a particular reason.

Go and see this movie if you like a story and if you like movies and tv shows like 300, True Blood or Vikings (Tv show). Avoid this movie if you can't get past semi-historical reference points the movie uses to try and set the scene.

It's not the greatest movie you will ever see but it's definitely above average.

…

Expand

O filme deve garantir uma diversão. Tem um pouco de ação, um pouco daquele clima de terror de um filme vampiresco. Contudo, tudo acontece

O filme deve garantir uma diversão. Tem um pouco de ação, um pouco daquele clima de terror de um filme vampiresco. Contudo, tudo acontece muito rápido e é difícil você aproveitar melhor a história, entrar nos dramas, etc.

…

Expand

This review contains spoilers, click expand to view. The movie felt rushed it goes the Turks are coming Dracula needs to be a vamp Dracula's a kind of vamp for 3 days if he doesn't drink blood Dracula kicks ass move from castle to church Dracula kicks more ass but isn't fast enough to save his friends who i don't think even have names he goes "My friend" and then their dead. Any way go to a church his people find out he is a kind of sort of vampire after about 2 minutes no one gives a **** just what ever our prince want's to drink it's all cool baby. Turks show up at the church after marching blindfolded cause they scared so of cause you blind them so they don't see death coming.
Elite Turks enter the church by going up a cliff face kidnap his son and his wife dies because she had to so Dracula would drink her blood and stay a vampire. Then he turns the remains of his people they go kill the Turks Dracula some how kills kills their King even though he knows that vampires are weak to of course silver Dracula's fellow vamp's turn on him and want to snack on his son and wage war against human kind so he gives his son to a monk who pops in and out and we know nothing about kills the other vamps by opening the clouds so sunlight can shine down his son becomes the new King to a people I thought got wiped out in the church. Dracula's revived by a guy that has TWO **** SCENES AND LIKE FIVE LINES than it's present day Dracula see's a woman that looks like his dead wife they walk off and followed by the uber vampire demon devil I don't know who changed Dracula at the start of this disappointment.
The only name I remember is Dracula I'm not sure if the other characters had names except for the Turk King whose name is said like two or three times and you won't remember anyway.

…

Expand

All ı can say is this movie was made because of the Butthurt ,they showed dracula as a hero! that he killed about 20.000 ople even his own

All ı can say is this movie was made because of the Butthurt ,they showed dracula as a hero! that he killed about 20.000 ople even his own peoples! no Turks or Ottomans didn't steal his child! even There wasn't even a war! and he didn't have a child! .... Time changed dracula! 3rd Vlad he betrayed to Conqueror Mehmet by not payying taxes! and killing inoncents! cowardly he didn't even fight with them! he kidnapped them.Trust me if they show dracula as a caniball, murderer not a hero! no matter SPOİLER how many stupid ,imposible,not real battle scenes like Bat crushing! i can give it to a 7! Dracula was killed! when he regrouped ,repreaped his army and comming to the Bükres! and his head was cutted his body is now at Istanbul museum!, and his head is around somewhere!

…

Expand