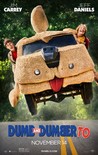 Everyone has piled into this dumber, sillier, more consistently funny reprise with an enthusiasm that's infectious, and not in a low-grade medical way.

There are gags that work, that pay off in a big way, and gags that fall flat, derailing entire sequences. Because the world around them is so absurd, the film's attempts at creating some genuine heart for Harry and Lloyd doesn't really work.

The Farrellys are still not much interested in film as a visual medium, and when Lloyd and Harry aren't smacking each other or dropping their pants, you might as well be listening to a radio play. There's a story, but it doesn't matter, certainly not to the leads or the good-natured sidekicks like Kathleen Turner and Rob Riggle.

The jokes are far from fresh, yet the shock laughs are on a par with their inaugural outing and will undoubtedly appease fans of the original.

So maybe some of this is hilarious. Heck, maybe all of it is. It will not be everyone's cup of tea, and it was not mine.

The original film was unpredictable and loose and every so often gave up the aura of dangerousness. If anything, the sequel is a tepid, watered down, and at 100-minutes oftentimes boring attempt to recapture the magic but without any of the whimsy.
Easily best comedy of the year! I don't understand this new trend in Hollywood.. critics love **** comedies like The Hangover, Neighbors, 21

Easily best comedy of the year! I don't understand this new trend in Hollywood.. critics love **** comedies like The Hangover, Neighbors, 21 Jump Street! I hated every single one of these movies, they're not even movies, they're unfunny and sad attempt to make something new, guess what, you've failed, those movies suck!!!!! Dumb and Dumber & Dumb and Dumber To are real comedies!!!

…

Expand

This is one of those rare instances where I strongly disagree with the Film Critics. Dumb and Dumber To is easily one of the funniest comedies

This is one of those rare instances where I strongly disagree with the Film Critics. Dumb and Dumber To is easily one of the funniest comedies I have seen in years. The Hangover, Horrible Bosses, 21 Jump Street, and other recent examples are limp by comparison. It may not be to everyone's taste, but it isn't trying to stray from the source material. The original was mean spirited, low-brow, over-the-top and at times, obnoxious. Why critics are using these things as points AGAINST this sequel is mind-boggling to me. Dumb and Dumber To is the sequel that the franchise deserved. It may not be nearly as good as the original but it is leaps and bounds better than Dumb and Dumberer, which is all any true fan could ask for. If you're hesitant to see the movie because of average reviews, ask yourself if the original film holds a place in your heart. If it does, get yourself to the theatre and expect to laugh from beginning to end.

…

Expand

The first Dumb an Dumber proved a hit with audiences. Apparently watching Daniels and Carrey bumble around like idiots onscreen, involving

The first Dumb an Dumber proved a hit with audiences. Apparently watching Daniels and Carrey bumble around like idiots onscreen, involving themselves in gross out gags and making stupid faces made it something of a comedy classic. I personally was not as amused. Given the fact that I didn't like the first movie I had no real interest in this sequel. Imagine my surprise when I found out just how much I liked it.

Given how it consistently funny it manages to remain throughout it's runtime there seems to be some intelligence behind the stupidity this go around. The jokes keep coming, both big and small. The majority of them hit their mark. That's because the Farrelly brother toned down on the humor that didn't work in the first movie (the excessive amount of gross out gags and an over-reliance on Jim Carrey's stupid faces) and just focused on what did work; portraying just what morons these characters are. There is a certain hilarity to their ineptness that I found to be missing in the first.

Surrounding Carrey and Daniels is an all around talented cast. Plenty of throwbacks to the original are made, but they are done so in small ways. As a result they serve as a way of bringing back some goofy memories of the original all while not coming off as one of those sequels that feel like they are constantly saying "hey, remember how great the first movie was?" It stands on it's own two feet and is much funnier as a result.

All in all it takes what so many enjoyed about the first movie and improves upon it. The gross out gags are still here, but they have been mercifully turned down. The humor and main characters are still just as dumb as ever, but nowhere near as irritating. Even as someone who didn't enjoy the original I found plenty to enjoy and laugh at in this sequel. No, it's not art, but it certainly shows just how funny stupid humor can be.

For that I give it an 8.9/10. It's quite the funny movie.

…

Expand

I have to say that the overall vibe I think most fans will take away from this movie is disappointment. It's a funny movie, it's great to see

I have to say that the overall vibe I think most fans will take away from this movie is disappointment. It's a funny movie, it's great to see these characters back and a lot of their jokes do hit because Jeff Daniels and Jim Carrey work magic together. But is the movie as funny as the original? Probably not. It does feel a little bit forced. There are times when a lot of the jokes fall flat, especially in the third act and once they actually meet the girl they're searching for, I think she was pretty much not funny at all.

…

Expand

Sadly the charm of the original Dumb and Dumber wasn't replicated here. When the jokes work, they work pretty well. I think there were only a

Sadly the charm of the original Dumb and Dumber wasn't replicated here. When the jokes work, they work pretty well. I think there were only a couple moments where I actually laughed out loud, though. When the jokes don't work however, its just embarrassing and awkward to watch. This movie just wasn't clever or funny enough to be warranted. It's not the triumphant return any of us hoped for. That being said, it can still be fun to watch Harry and Lloyd being idiots. If you're willing to take it for it's faults and just enjoy Jim Carrey and Jeff Daniels, then its worth a watch. I wouldn't spend money on it in theaters though.

…

Expand

Dyshpo's Law

1. When a film has more than 3 producers it shall suck. 2. When a film has more than 2 writers it will suck. 3. When aDyshpo's Law

1. When a film has more than 3 producers it shall suck.

2. When a film has more than 2 writers it will suck.

3. When a film has more than 1 director it will suck . (excluding animation)

…

Expand

Mother of God... Maybe it will finally be over. One was enough and this franchise needs to be put down for good. I don't have anything

Mother of God... Maybe it will finally be over. One was enough and this franchise needs to be put down for good. I don't have anything redeeming to say about this pile of excrement.

…

Expand