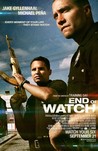 Starring:

America Ferrera

,

Anna Kendrick

,

Jake Gyllenhaal

,

Michael Peña

Summary:

End of Watch is an action thriller that puts audiences at the center of the chase like never before. Two young LA police officers discover a secret that makes them the target of the country's most dangerous drug cartel. [Open Road Films]
Director:

David Ayer

Genre(s):

Drama

,

Mystery

,

Thriller

,

Crime

Rating:

R

Runtime:

109 min
Please enter your birth date to continue:
You are not allowed to view this material at this time.
David Ayer, the writer of "Training Day," director of "Street Kings," writer/director of "Harsh Times," does not make movies about princesses with witchy curses, about yuppie commitment-phobes, about talking plush toys. His territory is narrow, but he owns it: cops, in Los Angeles.

There's nothing in David Ayer's cop drama End of Watch that you haven't already seen, but the film has moments so riveting that you might not care too much.

The two cops are cocky and funny and young, and it still takes a good half hour to accept that they may be as forthright and dedicated to their jobs as they appear to be.

End of Watch is more than the sum of its parts, though; it ends on a downbeat note, but that's something I've come to expect from Ayer.

No doubt, these twin saviours are a likeable tandem, and they bear their cross lightly. Still, End of Watch suffers from no end of sanctimony. Sainthood is all well and fine but it ain't drama and, on screen at least, the question cries out: Where's a corrupt cop when you need him?

End of Watch is a repellent movie, first for its shaky-cam conceit rendering much of the action incomprehensible, and finally for seeking to entertain viewers through the thuggish execution of a police officer.
An amazing police thriller/drama film that reminds you of such great cop show oldies like Adam-12 and 21 Jump Street. With deep characters,

An amazing police thriller/drama film that reminds you of such great cop show oldies like Adam-12 and 21 Jump Street. With deep characters, great acting and superb directing, End of Watch is worth watching.

…

Expand

End of Watch is a thrilling action drama film incorporating the elements of hand-held footage. What

This review contains spoilers, click expand to view.

There were racist jokes, a gold-plated AK-47, a man who survives being stabbed in the eye with a knife. There's simply not enough of that in movies. Also, the bad guys were cast well. Big Evil plays big evil very well.

…

Expand

Excellent film. Spot on performances by the main cast and secondary characters. Fresh take on the buddy cop film. More a character study of

Excellent film. Spot on performances by the main cast and secondary characters. Fresh take on the buddy cop film. More a character study of the two main subjects than focusing on the plot, which is fairly straight forward. Many of the incidents during the film don't get explained to any extent, and some characters pop into the film and then disappear without much information about them The pacing is really good but the camera work is not always successful. The over use of the hand held, shaky cam reduces the film to an episode of Southland and certain times. This is film, not TV. A bit of a splatter fest at times. A must see if you're into this genre of film.

…

Expand

I had no idea Anna Kendrick was in this movie. She is a doll with her pearly whites. I thought the movie gave us the fact that cops are human.

I had no idea Anna Kendrick was in this movie. She is a doll with her pearly whites. I thought the movie gave us the fact that cops are human. Some truly are out there in the streets to do the right thing. This film showed us that they have families, and they struggle seeing death everyday. I enjoyed Gyllenhaal and Pena's performances. Having to keep the peace in the hood ain't easy. Just like some soldiers never come home from deployments alive. Some cops never make it home alive from the streets. Thumbs up! Check it out if you haven't yet.

…

Expand

I find the critic and audience score for this movie was overrated. But I must admit it's one of good movie. Tearjerking ending and captivated

I find the critic and audience score for this movie was overrated. But I must admit it's one of good movie. Tearjerking ending and captivated performance by Jake Gyllenhaal and Anna Kendrick. But I don't find it's one good example of found footage entry.

…

Expand

This movie is so bad, it is beyond bad. It is basically unwatchable. When every second word in the script is the F word, it makes you want to

This movie is so bad, it is beyond bad. It is basically unwatchable. When every second word in the script is the F word, it makes you want to turn off the sound. The script seems to have been written by a 14 year old. The acting is atrocious. The photography is nauseating. How can anyone sit through the entire length of this shameful attempt ?

…

Expand