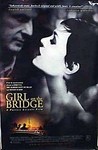 Starring:

Daniel Auteuil

,

Vanessa Paradis

Summary:

A girl on a bridge who contemplates suicide is met by a professional knife thrower. He recruits her to become the new human target in his travelling circus act in France, where the girl encounters a new sensual and suspenseful lifestyle.
Director:

Patrice Leconte

Genre(s):

Drama

,

Comedy

,

Romance

Rating:

R

Runtime:

90 min
Girl on the Bridge, with its doomed art-house romanticism and echoes of Fellini, may not be the deepest piece of filmmaking out there now, but it is easily the most intoxicating. Take the leap.

Leconte (''Ridicule'') gives his heart to the luck of romance, to the dream state visual style of Fellini, and, most lyrically, to the passion of the dagger point swoon.

Simply, one of the year's best films.

It's surprising how much of the old mood Leconte manages to recapture, how sumptuous he makes the black-and-white cinematography and timeless Parisian and Mediterranean settings look.

It's a gloriously baroque vision and Leconte believes in his sequin and sawdust fantasy with such unabashed enthusiasm that he makes it work even through its most absurd moments.

Locale is crucial here, and Monte Carlo, Athens and Istanbul are a wonderful trio of cities for glamorous romance, intrigue and danger--and they could not seem more richly atmospheric with Dreujou's lush camerawork.

This elegant vision of sexual roles is certain to make a lasting impression and is likely to provoke explosive dialogues in Denny's and sidewalk cafés from here to Monaco.
Gorgeously shot, quirky, romantic, unconventional love story. I loved it to bits because it was so different from anything I've seen before,

Gorgeously shot, quirky, romantic, unconventional love story. I loved it to bits because it was so different from anything I've seen before, although it has a French new wave 1960s influence.

…

Expand