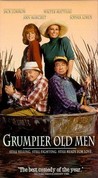 Starring:

Ann-Margret

,

Jack Lemmon

,

Sophia Loren

,

Walter Matthau

Summary:

Academy Award-winners Jack Lemmon and Walter Matthau reprise their roles as bickering best friends. Legendary screen siren Sophia Loren is the vivacious newcomer who might just prove a formidable rival to the grumps as they try to keep her from turning their cherished local bait store into

Academy Award-winners Jack Lemmon and Walter Matthau reprise their roles as bickering best friends. Legendary screen siren Sophia Loren is the vivacious newcomer who might just prove a formidable rival to the grumps as they try to keep her from turning their cherished local bait store into an Italian restaurant. (Warner Bros.)

…

Expand
Director:

Howard Deutch

Genre(s):

Comedy

,

Romance

Rating:

PG-13

Runtime:

101 min
Please enter your birth date to continue:
You are not allowed to view this material at this time.
Grumpier is a welcome continuation that leaves you wanting for another chapter that's as rich in humanity and fun as the initial companion pieces.

The whole point is to reproduce the experience of the first movie (and every other Lemmon-Matthau pairing) with mechanical precision. And so it does.

Jack Lemmon and Walter Matthau reprise the roles of a pair of Minnesota mossbacks in the heartwarming, albeit warmed-over, sequel Grumpier Old Men—though given its scatological bent, it might have been called Grump and Grumpier.

t's great to see cherished, longtime stars in big roles to which they can bring so much spontaneity and finesse; you wish only that this movie were sturdier and had aimed higher. Judging from the bloopers that unreel during Grumpier Old Men's end credits, the cast had lots of fun making this movie--more fun, it would seem, than it is to watch. [22 Dec 1995, p.18]

Without Lemmon and Matthau, it's doubtful either "Grumpy" movie would be worth watching -- or even thinking about. But, because these two get much of their humor from reactions, the magnificent friction they create, they can say ridiculous things -- or even make up ridiculous lines (which they seem to be doing here) -- and make the scenes play. [22 Dec 1995, p.P]

Grumpier Old Men certainly isn't relying on its mawkish and hokey story to put warm bodies in the seats. There's no reason to see the picture - a sequel to their 1993 hit, "Grumpy Old Men" - other than to relish the talents of these two veterans, plus Sophia Loren, a newcomer to the series.