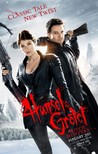 Starring:

Gemma Arterton

,

Jeremy Renner

,

Peter Stormare

Summary:

Catching up with Hansel and Gretel 15 years after their incident involving a gingerbread house, the siblings have evolved into bounty hunters who hunt witches.
Director:

Tommy Wirkola

Genre(s):

Action

,

Fantasy

,

Horror

,

Comedy

Rating:

R

Runtime:

88 min
Please enter your birth date to continue:
You are not allowed to view this material at this time.
Wirkola tears through Hansel & Gretel: Witch Hunters with such giddy abandon, it ends up being splattery fanboy fun. Preposterous, clearly, but fun.

An intermittently fun, but overexcited and predictable mish-mash.

The film is smart enough not to wear out its welcome. But that's the only sign of true intelligence in this juvenile caper.

This genre stew throws in so many ingredients - including sundry body parts that are cut off and go flying, and heads that explode - that the result is a tasteless mash-up that's hard to stomach.

In an age of zombies, werewolves and oversexed vampires, teens won't be shaking in their Uggs over ugly women with bad teeth flying around on brooms, and with its graphic depictions of tortures, mutilations, gang rapes and myriad examples of child abuse, it's no longer a fairy tale suitable for children.

In his English-language debut, Wirkola dabbles in everything but commits to nothing, making for an unmemorable brew best left untasted.

An exceedingly dull and stillborn attempt to update the Brothers Grimm.
Not sure why this is getting such low reviews. It's a FUN movie, plain and simple. Just sit back and enjoy the cheesy one-liners and watching

Not sure why this is getting such low reviews. It's a FUN movie, plain and simple. Just sit back and enjoy the cheesy one-liners and watching people get blown up. No, it's not a 10, but I gave it one to counter the unnecessarily low rating.

Oh, and, this is coming from someone who thought that Zero Dark Thirty and The Master were two of the best movies of last year.

…

Expand

I think the critics have scored this film very unfairly. This is one of those films that is so bad that it's good. If you take it for what I

I think the critics have scored this film very unfairly. This is one of those films that is so bad that it's good. If you take it for what I perceive it to be which is tongue in cheek, full of cheese and prepared to laugh at itself then you'll enjoy it. If you watch it looking for a serious film then you will be very disappointed. I would watch another one.

…

Expand

A nice pleasant surprise here as this was much better than I was expecting. Corny, perhaps, but there was certainly enough action gore to

A nice pleasant surprise here as this was much better than I was expecting. Corny, perhaps, but there was certainly enough action gore to make up for it. Both of our leads were likable and played their roles, as did the villains. It was so refreshing not to see the film under so much CGI like a lot of recent Horror films, and there was a nice amount of stunt work involved! Overall I thoroughly enjoyed it, and while slightly predictable, it's too fun and enjoyable not to like!

…

Expand

A contemporary, somewhat steam-punk take on the classic fairytale, Hansel & Gretel: Witch Hunters tries to utilise the popular idea of 'what

A contemporary, somewhat steam-punk take on the classic fairytale, Hansel & Gretel: Witch Hunters tries to utilise the popular idea of 'what happens after the story ends'. The whole ensemble is a camp, yet entertaining film, which is similar to 2004's Van Helsing. The performances are mediocre to satisfactory at best, with a poor script and short run-time limiting the cast to cardboard acting. Overall, it's style over substance, but it somewhat embraces it, with a satire-like flair. The film doesn't take itself too seriously, and is a perfect example of a 'popcorn flick', perfect for a night in.

…

Expand

Just making it clear, I did not watch this movie just so I could give it a negative review. I wanted to like this movie but I just couldn't.

Just making it clear, I did not watch this movie just so I could give it a negative review. I wanted to like this movie but I just couldn't. The main characters were brutal. Jeremy Renner's character doesn't go through any development at all through the movie and Gemma Arterton was a useless character as well, and seemed to only be in the movie to show her body off. The costumes for the witches, obviously fake, you could tell you looking at someone in a mask. This movie could never really be a classic movie but I could've been done a lot better.

…

Expand

It's almost charming, it's almost funny, and the action is almost exciting. Nothing flows, the writing is poor and it's essentially brain-dead

It's almost charming, it's almost funny, and the action is almost exciting. Nothing flows, the writing is poor and it's essentially brain-dead fare. A waste of a handful of pretty solid actors - and it's no wonder that Paramount and MGM chose to share this risk of this sucker. It's too bad that McKay & Ferrell didn't get more involved in the making of this film - it could have used some punching up.

…

Expand

My eyes! My eyes! Oh the humanity! I'll never be able to unsee the horror I've just been witness to. Yes some people in the theater enjoyed

My eyes! My eyes! Oh the humanity! I'll never be able to unsee the horror I've just been witness to. Yes some people in the theater enjoyed the movie, but they also wear helmets in public and are otherwise mouthbreathers. I'm not sure what Hollywood was shooting for with this movie, I just wonder if they are happy with this effort. Sometimes I wish they would just admit defeat and not release a movie like this. I won't bother to itemize the flaws of the film as well...everything was bad.

…

Expand