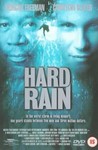 Director:

Mikael Salomon

Genre(s):

Action

,

Drama

,

Thriller

,

Crime

Rating:

R

Runtime:

97 min
It's fast-moving, it's got fine special effects, the hero and heroine are pure and quick-thinking, the bad people die badly, and the script draws its fair share of laughs.

A spectacular natural disaster spiraling out of control, a crime gone wrong and a poor jerk caught in the middle: Yes, it's a standard action-picture recipe. But what a difference a cast makes.

A well-cast disaster movie more notable for special effects and stunts than for credible drama.

This documentary-like realism, alas, only underlines the preposterousness of its plot with its torrent of contrived, credibility-defying cliffhangers.
It ticks all the right boxes for an action movie but it feels lacking in depth and slightly underwhelming in tone. It is enjoyable for around

It ticks all the right boxes for an action movie but it feels lacking in depth and slightly underwhelming in tone. It is enjoyable for around 30 mins then it becomes lame. The simplest description for this film is it is a mainstream film aiming to please all but ultimatel lacking in cinematic substance. It is certainly made for simple minds yet simple films are usually the most effective. This however is not very effective which is where my point lies. 55/100

…

Expand