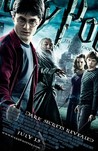 Starring:

Daniel Radcliffe

,

Emma Watson

,

Rupert Grint

Summary:

Voldemort is tightening his grip on both the Muggle and wizarding worlds and Hogwarts is no longer the safe haven it once was. Harry suspects that dangers may even lie within the castle, but Dumbledore is more intent upon preparing him for the final battle that he knows is fast approaching.

Voldemort is tightening his grip on both the Muggle and wizarding worlds and Hogwarts is no longer the safe haven it once was. Harry suspects that dangers may even lie within the castle, but Dumbledore is more intent upon preparing him for the final battle that he knows is fast approaching. Together they work to find the key to unlock Voldemort's defenses and, to this end, Dumbledore recruits his old friend and colleague, the well-connected and unsuspecting bon vivant Professor Horace Slughorn, whom he believes holds crucial information. Meanwhile, one student remains aloof. He is determined to make his mark, albeit a dark one. Love is in the air, but tragedy lies ahead and Hogwarts may never be the same again. (Warner Bros.)

…

Expand
Director:

David Yates

Genre(s):

Action

,

Adventure

,

Mystery

,

Fantasy

,

Romance

,

Family

Rating:

PG

Runtime:

153 min
Please enter your birth date to continue:
You are not allowed to view this material at this time.
The most beautiful magic in it is left unseen. And still, it emerges with absolute clarity.

Dazzlingly well made and perhaps deliberately less fanciful than the previous entries, this one is played in a mode closer to palpable life-or-death drama than any of the others and is quite effective as such.

It flows like fast-moving lava to a climax filled with pyrotechnics. And for once in a summer blockbuster, the fireworks are both emotional and physical. The movie leaves you sated, yet wanting more -- just what you want from a series with two entries left to go.

The good news is that it comes closer than any of its predecessors, hitting the mark or coming close to it on almost all fronts. With "Harry Potter and the Deathly Hallows" being split into two films, the final installment stands an excellent chance of getting it right.

Half-Blood Prince is the franchise's "Empire Strikes Back" -- the episode in which the pace slows down a bit, the characters deepen and mature, the good guys take a big hit, and all hell is gearing up to break loose.

Slower and talkier than the five Potters that came before - but not necessarily in a bad way - Half-Blood Prince is a bubbling cauldron of hormonal angst, rife with romance and heartbreak, jealousy and longing.

We get one lovely, cheering sequence of a trashed room putting itself in order, like the untidy nursery in "Mary Poppins," but the rest of the magic here feels randomly grabbed at.
Dazzling visuals, some incredible performances stand out Emma Watson, and some emotional depth make this easily one of the best film's in the

Dazzling visuals, some incredible performances stand out Emma Watson, and some emotional depth make this easily one of the best film's in the franchise. I give this film 95% of a good movie.

…

Expand

Simply beautiful! I left completely in awe! Everything worked so well together, easily my favorite Potter movie now and I am a hard sell. A must see!

Extremely beautiful movie. Although there are a couple of odd scenes; people kissing to the right in the middle of one of the darkest scenes

Extremely beautiful movie. Although there are a couple of odd scenes; people kissing to the right in the middle of one of the darkest scenes with Malfoy, the parts with Ginny, the whole showing of "Harry is old enough to kiss now"-part and so on, it had some great effects, very nice (and spectacularly different) images, and an experimenting change between the different genres. The part from when Harry drinks the potion of luck and 15-20 minutes ahead, is almost Tarantino'ish in it's dialogue and acidness, which made it some of the best couple of minutes I've seen in a while in a non-Tarantino movie. I usually hate the Harry Potter-movies, but this one was almost half as good as the book!

…

Expand

As a movie, this is an enjoyable film and is worth anyone's money. However as a fan of the book I was quite dissaponted. There were too

As a movie, this is an enjoyable film and is worth anyone's money. However as a fan of the book I was quite dissaponted. There were too many things to name that I wish were there while other things I wish were excluded (The burning of the burrow comes to mind). I have been frustrated so far with Yate's first 2 movies but with the next movie being split (and having a HUGE budget to work with) I can't help but look forward to them. As a movie it deserves its 7 (if I had never read the book it may have earned an 8 or 9) but prepare to be dissapointed if you've read the book.

…

Expand

The movie was funny but it didn't feel like they were even at hogwarts it skipped around to much and not explaining stuff enough the

The movie was funny but it didn't feel like they were even at hogwarts it skipped around to much and not explaining stuff enough the director i guess though that everybody read the books which is stupid cause the only way you no what was going on was if you did my dad hasn't and he was confessed about stuff they should have explained better. The movie seemed just like telling about the Romance nothing else the end sucked in the book it talked about the whole school fighting the death eaters but in the movie harry cast like 2 spells at Snape it was stupid they should of had a big fighting scene like in the book it would have been a lot better. The 7th better be a lot better then this one this one has to be one of the worst.

…

Expand

From a comment below: "This was for a person who read the books (sorry can't see How if you only saw the movies you can comment)" This

From a comment below: "This was for a person who read the books (sorry can't see How if you only saw the movies you can comment)" This perfectly sums up what is wrong with these plodding films. They are made purely as accompaniments to the books. More of a series of visual footnotes, they are, in fact, barely films at all.

…

Expand

user reviews are so arbitrary that so many of them are just based on first impressions as indicated by how many reviews are out right now even

user reviews are so arbitrary that so many of them are just based on first impressions as indicated by how many reviews are out right now even though the movie hasn't even finished post production yet. User reviews should be limited to people who have metacritic accounts, because user ratings right now are completely pointless.

…

Expand