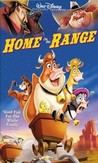 Starring:

Cuba Gooding Jr., Judi Dench

Summary:

When a greedy outlaw named Alameda Slim (Quaid) schemes to take possession of the "Patch of Heaven" dairy farm, three determined cows (Barr, Dench, Tilly), a karate-kicking stallion named Buck (Gooding Jr.), and a colorful corral of critters join forces to save the farm in a wild quest full

of high-spirited adventure. (Disney)

…

Expand
Director:

John Sanford

Genre(s):

Western, Music, Animation, Family

Rating:

PG

Runtime:

76 min
Has a wacky charm and a feeling like no other Disney film in recent years.

An engagingly rambunctious toon Western that likely will attract herds of family auds, if not multitudes of teens and tweeners, to megaplex corrals.

Highly likeable, pleasantly unpretentious and plenty amusing.

Should make about $750, which is how much they need to save the farm, but a little less than Disney CEO Michael Eisner needs to save his job.
Very nice movie. Great music and animation. Lovely Songs but only the story is a little bit simple.

If I remembered "Home on the Range" correctly, the characters were funny but crazy has hell.

It isn't very funny or entertaining or well animated. And it definitely in unoriginal. There really is no fun to this film at all. You may as

well just walk out because it brings no message for kids. I give this film a 34% of a good movie.

…

Expand