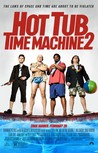 Starring:

Adam Scott

,

Clark Duke

,

Craig Robinson

,

Rob Corddry

Summary:

When Lou, who has become the "father of the Internet," is shot by an unknown assailant, Jacob and Nick fire up the time machine again to save their friend.
Director:

Steve Pink

Genre(s):

Sci-Fi

,

Comedy

Rating:

R

Runtime:

93 min
Please enter your birth date to continue:
You are not allowed to view this material at this time.
Boorish and crass, homophobic and misogynistic, the very definition of sloppy seconds — par for the course where the present generation of male-driven, R-rated, "Hangover"-aping franchise comedies are concerned. That it somehow manages to send you out of the theater feeling tickled rather than sullied may be a mystery as impenetrable as the cosmos.

Some of the gags are stupid-funny, others are just puerile, making for a hit-or-miss experience.

In the future, in the past, at all points along the space-time continuum, the Theory of the Teenage Male Mind throws everything out of whack.

The sequel is dominated by Rob Corddry, a fearless funnyman best taken in tiny doses. The doses aren't tiny enough and the laughs are few and far between this time in the tub.

It's a comedy that's so witless and unfunny and shoddily made it makes "The Hangover 2" look like "The Godfather 2."

Josh Heald's script takes the easy way out, ending the film with a torrent of slapdash sentimentality.

This version of the time machine is more powerful — it's made me go back and hate the original.
So far the funniest movie I saw this year. I don't understand why there are a lot of negative reviews. I laugh so much that I almost pissed my

So far the funniest movie I saw this year. I don't understand why there are a lot of negative reviews. I laugh so much that I almost pissed my pants. It was a very great unique movie, without any of that comedy rust jokes. Very creative piece of material. Don't mind the negative reviews it is an animal comedy, if you like the first one you will love this sequel.

…

Expand

This movie is a bit of a mess, but I loved the first one and I think people are just demanding a lot more polish with their shi**y modern

This movie is a bit of a mess, but I loved the first one and I think people are just demanding a lot more polish with their shi**y modern comedies. Compared to other comedies I've seen, this was easily just as funny, fun, and cliched. The running jokes are great, and it had even less disgusting humor than the first. Maybe because the beginning of this movie isn't good, everyone hates the rest of it? Who cares, I'm glad this movie came out.

…

Expand

Its really crude and that's what I want to see in a comedy movie with a group of guys. Like the Hangover that type of movie or Horrible

Its really crude and that's what I want to see in a comedy movie with a group of guys. Like the Hangover that type of movie or Horrible Bosses. This movie is hilarious. But there are some scenes that feel like they shouldn't been there. For me this is a great late night type movie. If you don't get offended by vulgar jokes than this is for you.

…

Expand

Hot Tub Time Machine 2 is yet another uninspired comedy sequel that only happened because the first made money. You'll spend most of the time

Hot Tub Time Machine 2 is yet another uninspired comedy sequel that only happened because the first made money. You'll spend most of the time thinking "why am I watching this ?."
And that's coming from someone who likes time travel movies. There's also very little laughs and too many juvenile moments. While you know they ran out of ideas when Lou (Rob Corddry) and Nick (Craig Robinson) are pressured to have sex just like in the first film. This time though it's on a futuristic tv show.

…

Expand

Who in the world want to make a sequel to Hot Tub Time Machine? I love the first movie, but where's John Cusack in Part 2? This is one of the

Who in the world want to make a sequel to Hot Tub Time Machine? I love the first movie, but where's John Cusack in Part 2? This is one of the worst sequel of the year and that's a good thing. Thank goodness I skipped to this waste and see Kingsman instead. I love the entire cast (even though Lisa Loeb made a cameo), but the rest of the movie is just awfully bad. The script is lame, same humor jokes but little less fun, and I don't know what's worst, this or last year's Sex Tape. I guess HTTM2 is just not as bad as I think, but it's the sequel nobody wanted or asked for.

…

Expand

Hot Tub Time Machine 2 is half-assed and terribly written. I wasn't even really a big fan of the first film but I watched this movie anyway

Hot Tub Time Machine 2 is half-assed and terribly written. I wasn't even really a big fan of the first film but I watched this movie anyway and it turned out to be a waste of my time. First off the series loses on John Cusack who is really the only person that had the ability to lead the cast. I couldn't stand Rob Corddry in this film, he was just such a douchebag. I was drawn to this movie because of Adam Scott but even he didn't impress me. Really Hot Tub Time Machine 2 is just full of a bunch of comedy actors that have suffered in the supporting cast for years and now we know why. Please don't waste your time.

…

Expand

What a total waste of time this movie was...
I think I laughed like once, the rest of the time I just waited for it to be over...
DoWhat a total waste of time this movie was...
I think I laughed like once, the rest of the time I just waited for it to be over...

Do yourself a favor, and watch the trailer instead...

…

Expand