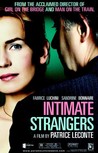 Starring:

Fabrice Luchini

,

Sandrine Bonnaire

Summary:

In this provocative love story masked in the guise of a suspense thriller, a beautiful Parisian woman opens the wrong door and steps into a dizzying psychological mystery that will forever change two lives. (Paramount Classics)
Director:

Patrice Leconte

Genre(s):

Drama

,

Romance

Rating:

R

Runtime:

104 min
At age 37, she's (Bonnaire) developed into a consummate film actress and a unique star whose enigmatic persona has never had a more exhilarating showcase.

It proposes that you can make an extraordinarily satisfying comedy without writing a joke. Subtly played and elegantly directed, this is an Adults Only movie in the best sense of the term.

We find we cannot take anything for face value in this story, that the motives of this woman and her husband are so deeply masked that even at the end of the film we are still uncertain about exactly what to believe, and why.

Consistently entertaining exploration of how much -- or how little -- is required to overcome obstacles to self-actualization should be welcome wherever auds crave a good story told with nuance and flair.

Leconte, as always, means to explore the gray areas between sexual espionage and love, and there remains something powerful about the fantasy of being listened to, without judgment.

There's a thin line between the subtle and the dramatically inert, and Intimate Strangers pitches a tent on it.

A bland chamber drama for those who like their French cinema tame, talky, and just a little titillating.