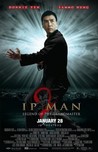 Summary:

During the Sino-Japanese War, Ip Man protected the dignity of Chinese by his wushu (martial art). As he had beaten the Japanese army and made them mad, he had to escape. After the war, the family lived in Foshan and experienced hardship. Ip therefore went to Hong Kong to start a new page wit

h his family in 1949. (Mandarin Films)

…

Expand
Director:

Wilson Yip

Genre(s):

Action, Biography, History

Rating:

R

Runtime:

108 min
An energetic, witty and altogether well-built martial arts drama that is familiar in many ways but distinguished by its high level of craft, its sincere sentiment and drama, and the forceful charisma of its star, Donnie Yen.

Choreographed by the film martial-arts veteran Sammo Hung, the fights are spectacularly designed and performed, relying more on muscle and skill than wirework.

A reminder of the pleasure of classic martial-arts films in which skilled athletes performed many of their own stunts.

With action this strong, the script just needs to be serviceable - and that's exactly what it is.
Not as good as the first Ip Man, however, still worth a watch. Seems a little bit more "hollywood" than the first film, particularly in the pl

ot line, but again what do you expect? The fight scenes are still very good, so definitely worth watching if you're into kung fu films. DVD Rental: Yeah, why not.

…

Expand

Very Good movie. Not nearly as good as the first but still good. It felt like the second half of the movie basically just copied Rocky IV. I m

ean if anybody has seen Rocky 4 they would know what I mean. I still recommend this movie though and would advise people to see the first one. Please don't listen to the critics despite the metacritic score the first one is better(in my opinion anyways).

…

Expand