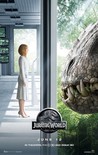 Starring:

B.D. Wong

,

BD Wong

,

Bryce Dallas Howard

,

Chris Pratt

,

Irrfan Khan

,

Judy Greer

,

Omar Sy

,

Ty Simpkins

,

Vincent D'Onofrio

Summary:

Twenty-two years after the events of Jurassic Park (1993), Isla Nublar now features a fully functioning dinosaur theme park, Jurassic World, as originally envisioned by John Hammond. After 10 years of operation and visitor rates declining, in order to fulfill a corporate mandate, a new

Twenty-two years after the events of Jurassic Park (1993), Isla Nublar now features a fully functioning dinosaur theme park, Jurassic World, as originally envisioned by John Hammond. After 10 years of operation and visitor rates declining, in order to fulfill a corporate mandate, a new attraction is created to re-spark visitor's interest, which backfires horribly.

…

Expand
Director:

Colin Trevorrow

Genre(s):

Action

,

Adventure

,

Sci-Fi

,

Thriller

Rating:

PG-13

Runtime:

124 min
Jurassic World is pure, dumb, wall-to-wall fun. When they hand you your 3-D glasses, you can check your brain at the door and pick it up on your way out.

Jurassic World is fresh and thrilling, and while it often tips its hat to the original, it's not a slavish copy, introducing more than enough new wrinkles into the prehistoric playbook to launch a new wave of sequels.

Jurassic World gives us enough dino-mite action to stave off excitement extinction.

Jurassic World, a goofy and fitfully entertaining summer movie, understands and even winks at its place in the pecking order of blockbuster sequels.

It's fun, but it's ultimately more of the same in brand-new packaging.

It's all in good fun, and critic-proof to boot, but Jurassic World doesn't even come close to that most intimate and dearly coveted "Gosh, wow" sense-of-wonder that the original film mustered so easily. Roar more, bite less.

Mr. Pratt's charm is no match for the crude filmmaking or the stupid plot that keeps him running around in a constant state of artificial animation.
This movie was incredible. If you're a fan of dinosaurs, Chris Pratt, or Jurassic Park, by all accounts you should love it. I spent the entire

This movie was incredible. If you're a fan of dinosaurs, Chris Pratt, or Jurassic Park, by all accounts you should love it. I spent the entire movie with a smile on my face and joy in my heart. I have never been so happy leaving a movie theater. It was hands down, my favorite movie-going experience. Without spoiling it, the movie has the right amount of everything. Pratt was fantastic. The kids weren't annoying. If you go to the movies to have fun and not pick things apart until you hate them, this movie is for you.

…

Expand

Like Alan Grant in Jurassic Park, I would ask Director Colin Trevorrow 'How did you do this?'. Firstly Jurassic Park is one of my all time

Like Alan Grant in Jurassic Park, I would ask Director Colin Trevorrow 'How did you do this?'. Firstly Jurassic Park is one of my all time favourite movies. I saw it when I was 11 and loved it ever since. As for the sequels, The Lost World is watch-able and Jurassic Park III does not even deserve the JP title. The series lost its way and you would have been forgiven for thinking, as I did, that any more sequels would have no chance of being halfway decent. It defies reason then that Trevorrow can come to this franchise with only one film under his belt and produce the best sequel to Jurassic Park. Not only that but Trevorrow set out to recreate the feeling of what it was like to watch the first film back in 1993 and for me he damn near succeeded. The only thing that stopped it feeling like a full 1993 nostagia package was that I had seen the dinosaurs before. Everything I had been concerned with in the trailers just works. Chris Pratt and the Raptors - its great! The I-Rex is genuinely the scariest creature since JP's T-Rex. And as for the T-Rex, his reappearance later in the movie was entirely predictable, highly anticipated and awesome. The whole film feels like a breath of fresh air with a promising future that entirely ignores parts two and three. I can't wait to see it again . . . it can't be as good as I remember can it?

…

Expand

Jurassic World is an entertaining time at the theaters, that uses a
surprising amount of humor and depth to keep you interested. WhileJurassic World is an entertaining time at the theaters, that uses a
surprising amount of humor and depth to keep you interested. While
Jurassic World is not as good as the original, not even close, it is a
good movie in it's own right. As to be expected the plot wasn't very
original, but take that with the grain of salt that going in you don't
expect too much originality. That being said while not very original,
the stakes in this film are higher than in the original, as the first
film dealt with 15 or so people on the island, this movie deals with
thousands. In the end I found the plot to have enough twists to keep me
interested, the movie had a surprising amount of humor (including a
hilarious Jimmy Fallon cameo), and an awesome climax.

…

Expand

It wastes talented actors and has ridiculous plot holes, but "Jurassic World" provides the most important thing an action-packed summer

It wastes talented actors and has ridiculous plot holes, but "Jurassic World" provides the most important thing an action-packed summer blockbuster needs to provide: entertainment!

…

Expand

Sort of predictable, Not a lot of laughs, Pratt didn't have a lot of on screen time despite being billed as the lead/future star of the

Sort of predictable, Not a lot of laughs, Pratt didn't have a lot of on screen time despite being billed as the lead/future star of the franchise. Features some pretty bad dialogue too, Especially for Pratt's character. It's not a bad movie but it doesn't even come close to living up to the hype.

…

Expand

This review contains spoilers, click expand to view. The park is open, and with it comes a great and entertaining adventure, with Chris Pratt as the charismatic Owen, a velociraptor trainer, and Bryce Dallas-Howard as the always-busy Claire. Along with two child actors, Chris and Bryce face a huge danger, and it isn't the not-inspired Indominus Rex, who broke free from his cage and unleashed chaos on Jurassic World. The real danger here are the plot holes, the stupid moments and the visual effects, who seems incredibly dated when compared to the original Jurassic Park (yes, from '93).

With all that said, Jurassic World succeeds at being a good monster movie, and better than the horrible Jurassic Park III, while also paying an homage to the T-Rex. With nothing more to it, make a popcorn, drink your beverage and turn your brain off to enjoy the movie.

…

Expand

Somebody on something really stupid has made something else absolutely brainless. Where to begin? This film's absurdity doesn't even begin

Somebody on something really stupid has made something else absolutely brainless. Where to begin? This film's absurdity doesn't even begin connecting every other synonym, describing the disaster seen. Do people this silly, really think that when making TV a franchise might cough up some numbers here? Entertainment often comes from a functioning story executing excitement throughout the ride invested, than we will go out and purchase, watching again. Not because somebody thinks hmm any braindead will buy into their brands.

What action and CGI? The action throughout this film was constantly repeated shown by that same Trex yawning. Seriously though the action shown, looked like some kind of 50's playdo. Otherwise those cave people in their thongs escaping from all of the other scary beasts. However those cave people often came from much better plots than this film's tripe.

Do us all a favour and think next time? If your making a Dolly the dinosaur clone just put a lethal kill switche inside of it's brain, popping when that beast even starts to show signs of escape. Not some kind of a tracker it can claw out? I mean dinosaurs just love scratching their heads, figuring all kind of ways to prison break and release all of the other most wanted inmates, the Pterodatyls. Wait the film gets way better when the cloned dinosaur was combined with every other venomous species of DNA, and it started communicating on Dr. Moreau's island to all of the domesticated military grade raptors, who were also trained as sniffer dogs for whatever drugs that these producers are using. Instead of it's DNA exploding from functioning like Platypus. Anyhow evil Dolly the Trex becomes leader of the pack, saying kill ze humans, hail your new cloned leader, quickly escape get some take away their are some real tasty humans. Although the raptors are all torn emotionally between their loyalty, seen in some kind of puppy love. RPG's have failed to kill any of the beasts. They decide to release a real Trex instead, for the Trex mating ritual of all the teeth and claws, even the little baby raptor decides to join in. Finally later Crocasharkosaur back flips out of the aquarium, impossibly, because it really should have been feasting on all the tourists previously., I mean evolve. I guess it had gotten super hungry becauce it was bigger with the fins that tried to evolve into feet, and any mosquitoes love the ocean salt, a home to all kind of amber. Finally the good animals have won, helping the humans escape their failed amusements.

Somewhere else glass balls stop thousand of tonnes of weight, because glass must be all kind of unbreakable. Rhinosaurs were only herbivores anyway, meaning they cannot see red. Anyhow our heroes walk on under, right on through earthquakes. A Richter scale with thousands of tonnes stomping and crashing would see people flying through air throughout that rampage. The human heroes like their dinosaurs counterparts were completely RPG proof.

Crichton knew that the park would never re-open to the public. Why did these producers think to franchise this stupidity? Stupidity seen in complete and utter devolution on everything else previous.

…

Expand