Release Date:

May 6, 2005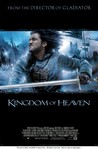 Starring:

Liam Neeson

,

Orlando Bloom

Summary:

An epic adventure about a common man who finds himself thrust into a decades-long war, a stranger in a strange land. He serves a doomed king, falls in love with an exotic forbidden queen, and rises to the knighthood. Ultimately, he must protect the people of Jerusalem from overwhelming

An epic adventure about a common man who finds himself thrust into a decades-long war, a stranger in a strange land. He serves a doomed king, falls in love with an exotic forbidden queen, and rises to the knighthood. Ultimately, he must protect the people of Jerusalem from overwhelming forces while striving to keep a fragile peace. (20th Century Fox)



…

Expand
Director:

Ridley Scott

Genre(s):

Action

,

Adventure

,

History

Rating:

R

Runtime:

144 min
Please enter your birth date to continue:
You are not allowed to view this material at this time.
A gargantuan epic, a historical adventure-drama of overwhelming visual grandeur.

Fulfills the requirements of grand-scale moviemaking while serving as a timely reminder that in the conflict between Christianity and Islam it was the Christians who picked the first fight.

But if the film disappoints on an intellectual level, at least it doesn't skimp on pageantry. This is, without question, one of the most beautifully crafted, visually thrilling war pictures ever made -- a painterly spectacle that leaves you looking for Caravaggio's name in the end credits.

A frustratingly thin epic. You're left wanting more exposition, more character development, the tidying up of loose ends.

Bottom line: Kingdom of Heaven is the most exciting action-adventure yarn so far this year. Just don't expect anything deeper.

To introduce an archetype like this to western audiences -- as the world weathers culturally and religiously demonizing times -- may have been worth this whole flawed movie. Too bad the story didn't just start with him.
I originally saw the Kingdom of Heaven theatrical release first, and my opinion of it was mixed, much like how I feel about Ridley Scott's

I originally saw the Kingdom of Heaven theatrical release first, and my opinion of it was mixed, much like how I feel about Ridley Scott's Robin Hood. The film seemed poorly edited and was missing something. Then came the Directors Cut and it all made sense. Americans were robbed of an excellent story once again due to low expectations on what the general public would like. Whether or not his is true is another story all together. What I feel is true is that the directors cut elevates the movie to something more than another action story. It adds so much more to the dynamics of the characters, fleshing them out in much greater depth and detail, and providing more of a connection from one character to the next. The stories protagonist, Balian (played by Orlando Bloom) is a mixture of several different personalities from the period, but his view of the world at the time could be considered very tolerant/progressive. Bloom carries his role well, playing him as a reluctant "hero" who is more practical, preferring to rely on his mind as well as his fighting prowess. He tends to fall in line more on how the ideal knight, sans the arrogance, would act if he actually defended his oaths. He gets a lot of flack for this role for some reason, but I feel he fit very well. The rest of the cast is very well thought out, with Eva Green skillfully playing the role of Sibylla as a strong, intelligent woman who understands all too well what must be done to maintain power. Her character is probably one of the most tragic ones in the story, although the list of those is pretty long. Jeremy Irons portrays the grizzled and cynical veteran Tiberias, who does some chewing of the scenery, but not in the bad way as far as I'm concerned. His character is probably one of my favorites, as his expressions and manner of his delivery is perfect for his role. There are very few characters that I did not appreciate in this one, but needless to say it would take up a lot more text. Liam Neeson, Edward Norton, Marton Csokas all do excellent jobs in their roles as Balians father, King Baldwin IV, and the comic book villain that is Guy de Lusignan. The three that stood out the most for me were Ghassan Massoud as a very honorable and respectful Salah'ad-din, Brendan Gleeson as the vicious but entertaining Raynald de Chatillon, and finally David Thewlis as the Zen-like Hospitaller. Ridley Scott is one of my favorite directors of all time, and this movie definitely displays why. This movie is awash in his trademark visual aesthetics (gorgeous color palettes, the ever present snow flakes fluttering about, etc), excellent writing, and some of the best music I have ever heard in a movie. Any movie. All in all he weaves together a very complex, but not entirely historically accurate, story between the second and third Crusades. As much as the trailers would have you believe it, this is no action movie. The pacing is good but sometimes on the slower side, and if you live for constant scenes of blood and violence, then you will be disappointed. Kingdom of Heaven is a glimpse back in time through the eyes of Scott and Monahan and they did an amazing job.

…

Expand

Great movie dont get what all those arses are talking about but who cares about them still orlando Bloom was amazing in this movie great

Great movie dont get what all those arses are talking about but who cares about them still orlando Bloom was amazing in this movie great movie suggest it to anyone cant wait for DVD.

…

Expand

Epic, again a Ridley Scott masterpiece with lots of depth and a message of knighthood, something clearly lost and not in the flavor nowadays.

Epic, again a Ridley Scott masterpiece with lots of depth and a message of knighthood, something clearly lost and not in the flavor nowadays. I strongly advise watching this movie and again critics must have been sleeping....they are wrong.

…

Expand

Quite an interesting piece of history, great cast, great photography.

While Balian as a central character is under developed, Bloom did a fairly good job with what he had to work with. His rise to becoming a

While Balian as a central character is under developed, Bloom did a fairly good job with what he had to work with. His rise to becoming a "Perfect knight" doesn't seem palpable enough, it would've been good to have seen him make a few mistakes, or perhaps take an action that has a consequence greater than he first anticipated. The themes running through the film are all good themes to work with, and the film definitely tries to analyse them, but it does take a couple of re-watches in order to figure them out completely, which I think is good. I gave The Dark Knight praise for doing that, so this gets praise too. The themes of Balian attempting to be an incorruptible knight seeking redemption for his sins (by committing none in the Holy Land) worked quite well, even though at times it seemed like he was sticking to his principles a bit too much. I think it was a good twist how Balian refuses to commit a little evil for the greater good by having Guy executed, however Seyblla, who is willing to commit a little evil for the greater good eventually dooms the kingdom by doing so. In a sense, they're two sides of the same coin.

The film also highlights the other reasons why people went on Crusade. Its so universally believed now that the Crusades were just about religion and nothing else, as is the recent wars in the Middle East, that people forget about the commercial aspects of the Crusades. It's no secret that trade between Italy and the Crusader States helped to fester the Italian Renaissance by bringing massive wealth, and it was also no secret that Pope Urban who initiated the First Crusade, stated that the Holy Land was a land that "floweth with milk and honey". People were attracted to the Middle East because there was a great deal of riches there, and the film definitely brings out the fact that in the end, religion is just an overtone, while at the core, they're only fighting for betterment of themselves; something which Balian does not wish to do. In terms of cinematography, the movie is beautifully shot and edited, and highlights Ridley's signature big sweeping shots. The battle scenes are all well done and frighteningly realistic. The acting is also to be commended, mainly for Edward Norton, Jeremy Irons, the always great Liam Neeson, Alexander Siddig and Massoud (I really hope that's the right one), who portrayed Saladin. In all a good movie, that could've been helped here or there, but definitely worth a watch nonetheless.

…

Expand

The best version of this film is the Directors Cut. Its adds 45 mins extra and is worth every second. Directors cut is a 10/10. This version

The best version of this film is the Directors Cut. Its adds 45 mins extra and is worth every second. Directors cut is a 10/10. This version misses too much and spoils the navative.

…

Expand

Ridley Scott tries to rehash the same grandiose style that did him well in 'Gladiator' for the pitiful 'Kingdom of Heaven' but the terrible

Ridley Scott tries to rehash the same grandiose style that did him well in 'Gladiator' for the pitiful 'Kingdom of Heaven' but the terrible script/screenplay leaves no room for the viewer to have any interest in either the surplus battle scenes, the undeveloped characters, or the nonexistent plot. And as far as acting goes, Orlando Bloom is to Russell Crowe as Shia LaBeouf is to Harrison Ford.

…

Expand