Release Date:

Jul 6, 2001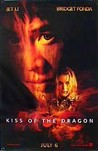 Starring:

Bridget Fonda

,

Jet Li

Summary:

Jet Li plays Liu Jiuan, China's top government agent, who arrives in Paris from Shanghai to carry out a sensitive, top-secret mission. (Twentieth Century Fox)
Director:

Chris Nahon

Genre(s):

Action

,

Drama

,

Thriller

,

Crime

Rating:

R

Runtime:

98 min
Please enter your birth date to continue:
You are not allowed to view this material at this time.
It is not merely a thriller but a shocker. It will separate hard-core Jet Li followers from the fair-weather fans.

Kiss of the Dragon is a straight-ahead star vehicle for the trim and terse Li, whose steady gaze and fist-flying ways are tempered by a gentlemanly mien.

The Hollywood action genre, sliding into a lazy dependence on computer-generated fakery, needs this authentic kick to the head delivered by Jet Li.

What goes on when Li isn't fighting the bad guys isn't worth discussing; it's that stupid.

It's one thing for a script to set the framework for an action film -- it's quite another when the script gets in the way.

As though fatalistically compelled, all three leads self-destruct: Li is as flat, colorless, and stiff as a panel of Sheetrock, Karyo plays his every syllable in overdrive, and Fonda seems trapped in the midst of a failed screen test for Pretty Woman II.
Denise, ur crazy.. this movie is awesome!!.. Jet Li is the BEST!

Kiss of the dragon has plenty of action, the plot isn't original but it didn't have to be. The movie isn't his best
movie, but the movieKiss of the dragon has plenty of action, the plot isn't original but it didn't have to be. The movie isn't his best
movie, but the movie comes close to Unleashed on the action level.

…

Expand

Man I f....n loved this movie!!

Man I f....n loved this movie!!

Man I f....n loved this movie!!

Action flick with sentiments emotion good film remarkable dont miss this one must look and must have DVD of this film.HATS OFF Jet li is

Action flick with sentiments emotion good film remarkable dont miss this one must look and must have DVD of this film.HATS OFF Jet li is outstanding his good reflexes quick moves are very unique.

…

Expand

If you're into action packed films with lots of fighting and a weak plot then this is the film for you.
I wasn't to keen on this film but IIf you're into action packed films with lots of fighting and a weak plot then this is the film for you.
I wasn't to keen on this film but I know many men who like it so I'm thinking it might be something to do with it being full of fighting which I'm not too keen of. It's also something for 'Jet Li' fans as he is the main character in this film so appears in it throughout the whole film. I'm giving it a five due to my opinion of that type of film not the film itself. So others are bound to disagree with me.

…

Expand