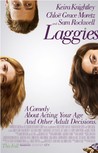 Starring:

Chloë Grace Moretz

,

Keira Knightley

,

Mark Webber

,

Sam Rockwell

Summary:

Having spent her twenties comfortably inert, 28 year old Megan (Keira Knightley) reaches a crisis when she finds herself squarely in adulthood with no career prospects, no particular motivation to pursue any and no one to relate to, including her high school boyfriend (Mark Webber). When he

Having spent her twenties comfortably inert, 28 year old Megan (Keira Knightley) reaches a crisis when she finds herself squarely in adulthood with no career prospects, no particular motivation to pursue any and no one to relate to, including her high school boyfriend (Mark Webber). When he proposes, Megan panics and given an opportunity to escape - at least temporarily - she hides out in the home of her new friend, 16-year-old Annika (Chloë Grace Moretz) and Annika's world-weary single dad (Sam Rockwell).

…

Expand
Director:

Lynn Shelton

Genre(s):

Drama

,

Comedy

,

Romance

Rating:

R

Runtime:

99 min
Shelton's comedy isn't just smart, but cheerfully wise; not just funny, but cleverly and endlessly so.

It's a gentle, amiable, sincere little movie, and we could use about a hundred more Lynn Sheltons in this business, making movies that feel this lived in, this true.

Laggies doesn't reinvent the wheel, but it puts an engaging spin on the old canard about high school being the best years of our lives.

Laggies possesses irrepressible cheer, optimism and an innate sense of ease that often go missing in angstier productions loosely organized under "Aging, fear of." Unlike its sometimes annoyingly wishy-washy heroine, this is a movie that knows just where it's going, and finds joy in the journey.

Even when Laggies strains against its contrived conceit, his (Rockwell) chemistry with Knightley goes a long way in classing up the joint and making Shelton's film feel just deep enough to pass muster.

Laggies itself isn't exactly slow – its pace is pleasantly meandering – and it's far from aimless, although what it's aiming for isn't always clear.

As Laggies piles up one scene after another of Megan's boyfriend and all her old high-school chums acting exaggeratedly square, the movie's comic point of view becomes overpoweringly sour and predictable.
Keira Knightley's performance is absolutely stunning! All of her reactions towards the situation are real and very sincere. You can touch it

Keira Knightley's performance is absolutely stunning! All of her reactions towards the situation are real and very sincere. You can touch it from the very first moment till the end. Although the plot is easily be predicted, this movie has great elements mixing together that make me badly miss my friends and high school life.

…

Expand

A deep, sensitive look at the struggles of early adulthood and the relationships made along that journey. Keira Knightley gives another

A deep, sensitive look at the struggles of early adulthood and the relationships made along that journey. Keira Knightley gives another remarkable performance as a young lady with inner confusion. Sam Rockwell and Chloe Grace Moretz ain't half bad either.

…

Expand

LAGGIES perfectly symbolizes everything right and wrong with the current indie film scene. On the one hand, the film, like others including

LAGGIES perfectly symbolizes everything right and wrong with the current indie film scene. On the one hand, the film, like others including JUNO, THE KIDS ARE ALRIGHT, ENOUGH SAID, and FRANCES HA, capture the feel and sound of modern American life. They capture us now. The complexity, the selfishness, the difficulties, but mostly the sound and rhythm of urban America for a certain class. They even throw their protagonists so many obstacles that a person could just break down and die or worse, live a miserable life like a Cassavetes character. Unfortunately, and here's the rub, LAGGIES like the other films mentioned can't resist a Hollywood cliche or a happy Hollywood ending. It's shameful and feels like pandering, which is what it is. LAGGIES has so much going for it that the end with its tidy little bow kind of pissed me off.

…

Expand