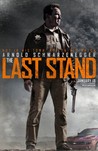 Director:

Ji-woon Kim

Genre(s):

Action

,

Thriller

,

Crime

Rating:

R

Runtime:

107 min
Please enter your birth date to continue:
You are not allowed to view this material at this time.
It's a crackerjack B movie worthy of comparison to such stylishly low-down, smart-meets-dumb, hyper-violent entertainments as the 1997 Kurt Russell thriller "Breakdown," Clint Eastwood's infamous police bloodbath "The Gauntlet," John Carpenter's original "Assault on Precinct 13," and Arnold's own overlooked 1986 outing "Raw Deal."

Dig just a shade beneath the surface, trade in the text for the subtext, and a more interesting picture emerges – a little richer, sadder, almost poignant. Arnie is back again, yet now, as a storied immigrant nearing the end of his tale, he's become an odd sight to behold.

The movie comes up with a couple of tender moments that could pass for human, and a mano-a-mano climax in which the superhero of yore, the glint in his eye dulled but not extinguished, functions as a weirdly touching tyrannosaurus.

The director does pull off a pretty magnificent cornfield car chase - two sleek vehicles cut through a thick, shaggy carpet of maize like souped-up harvesters, the movie's way of saying that the simple country life needn't be devoid of thrills. But Jee-woon takes too long to wrap things up, fumbling repeatedly on his way to an ending.

Kim doesn't sweat interweaving his story threads in any tightly controlled way. Just when the need-for-speed stuff really starts to gain traction, he'll shift for a surprisingly lengthy stretch to comic relief with the deputies and local wacko Johnny Knoxville.

[The Director] is especially good at integrating his New Mexico locations into the action, from a key combat scene on a bridge to a car chase that unfolds, with limited visibility, in a cornfield...Kim's handling of his first English-speaking cast isn't quite as assured, although everyone more or less gets by

That's the thing about this corpse pileup of an action movie. It persistently tries to drag the audience down to its mindless level.
My official review of "The Last Stand" can be summed up into a single word: America! Now I know you're asking "Stamp, what does America have

My official review of "The Last Stand" can be summed up into a single word: America! Now I know you're asking "Stamp, what does America have to do with The Last Stand?", and I'm glad you asked, Jeeves. My thesis is as follows. "The Last Stand", Arnold Schwarzenegger's newest theatrical release, and The Great United States of America go hand in hand because of the ridiculously good-looking and super fast Corvette( America's sports car); Arnold, himself, is an American dream come true; and because of U.S. citizens taking up arms to make a last stand against evil. Pun intended, although I'm not sure if it counts because that's what the title is talking about. Moving on, I left the theater entertained, motivated, and grateful to live in a great country. Last but importantly, they mention Jesus. Let's take a moment for a standing ovation for Jesus. Our lives are better for it. In conclusion, I officially award "The Last Stand" with my first ever Stamp Of Approval.

…

Expand

"You make us immigrants look bad."

Kim Jee-Woon's "The Last Stand" is a fantastic throwback to the 80's era of action movies that made"You make us immigrants look bad."

Kim Jee-Woon's "The Last Stand" is a fantastic throwback to the 80's era of action movies that made Arnold Schwarzenegger a mega star and a box office goldmine. When the leader of a drug cartel busts out of a courthouse and speeds to the Mexican border, where the only thing in his path is a sheriff and his inexperienced staff. Arnold is great as Sheriff Ray Owens, most of the other characters are just comic relief like Luis Guzmán as a deputy and Johnny Knoxville as a crazy troublemaker and museum owner. Eduardo Noriega does alright as the main villain who spends most of the movie in a car, the villain for the first acts of the movie is a mercenary played by Peter Stormare who is about as intimidating as all the other villains played by Peter Stormare. The second best character is the female deputy played by Jamie Alexander, she holds her own in a gunfight and does help get the bad guys. The movie is tons of fun and i highly recommend it to anyone who likes action.

…

Expand

Apparently the cast of The Expendables are moonlighting for different roles, respectively. Arnold Schwarzenegger took the role of an old, as

Apparently the cast of The Expendables are moonlighting for different roles, respectively. Arnold Schwarzenegger took the role of an old, as he said so himself, sheriff of a small town near the border of Mexico and USA. As far as action flick goes, The Last Stand will not disappoint, despite the cheesy lines and some acting flaws. Fist-to-fist brawls, gun fights in the middle of a street, and wild chase scenes contribute in overshadowing what shortcomings it may have.

A fugitive has eluded FBI when he was about to be transferred to another prison. Using trickery, his mercenary team and a sweet ride that could easily be featured in Fast and Furious, he dashed for the border. As we all know from previous dozens action movies, fleeing to Mexico is equivalent of a jail free ticket. Unfortunately this little town, which has Arnold as its sheriff, stands between him and complete freedom.

Honestly, whenever Arnold appears and tries to act, there's a lingering feel of awkwardness as if it'd be unintentionally comedic, although some scenes provide comedic relief at his own expense. However, his name still carries some weight, and I'm sure everyone has certain expectation when watching his movies. He puts decent performance, instead of putting air, he's showed as a weary battle-sicken man, but still a man who will hold his ground, with several questionable characters as his deputies.

The movie doesn't owe the fun thrill to Arnold alone, the pace is well structured, time frame is nicely done, and the others compliment the humor as well. Johnny Knoxville as Lewis Dinkum is admittedly downright ridiculous, he owns a museum of highly destructive weapons for plot convenient purpose. He also has perhaps the most notable shabby acting, the clown, if you will, thought he might induce some chuckles.

Forrest Whittaker as John Bannister, the FBI agent in lead of the operation is adequate, considering he has acting mettle more than the rest. Peter Stomare as the slightly psychopathic accomplice does just that, a slightly psychopathic second villain. The rest are bundles of misfits, mandatory hot chicks, and agents who will eventually come just in time to miss the action. Direction and choreography are well thought-out, divided in a focused pace while clever camera angles capture the action quite amazingly. The Last Stand has hackneyed acting and lines, has plenty of quirkiness, but serves its bullet-whistling and car-chasing fun like it's supposed to and quite entertainingly in that regard.

…

Expand

I felt a little lost in this movie. Don't get me wrong I thought it was actually pretty good but it bounced back from humor and seriousness

I felt a little lost in this movie. Don't get me wrong I thought it was actually pretty good but it bounced back from humor and seriousness that made it hard to know when to take it seriously. Other than that is just a good old fashion action movie with Arnold, how could that go wrong?

…

Expand

Cliche after cliche, one-liner after one-liner, but the action set pieces are solid. Popcorn fun, nothing more. Arnold deserves better

Cliche after cliche, one-liner after one-liner, but the action set pieces are solid. Popcorn fun, nothing more. Arnold deserves better scripts, and we deserve a few good films he has left in him.

…

Expand

A Mexican crime lord escapes from the FBI and it's up to a small town sheriff (Arnold Schwarzenegger) and to stop him. There are some cool

A Mexican crime lord escapes from the FBI and it's up to a small town sheriff (Arnold Schwarzenegger) and to stop him. There are some cool driving stunts, but most of the action is nothing special. The pacing keeps it moving, but the screenplay is simply painful: predictable, for sure, but lacking in so many ways. There were lots of opportunities for character comedy and smart retorts, but none of it was realized. This might have been a fun vehicle (featuring several fast Chevys), but the writing condemned it to an awful accident: avert your eyes!

…

Expand

A small time sheriff is called up to the plate when an escaped fugitive tries to drive through his town......and of course he steps up to the

A small time sheriff is called up to the plate when an escaped fugitive tries to drive through his town......and of course he steps up to the plate with his rag-tag bunch of deputies and puts on a great "Last Stand". The story line is as painfully dull as the characters and the dialogs and the acting. There are a few good action scenes and car chases, but other than that, Arnold's great comeback is nothing more than big giant muscular cliche.

…

Expand