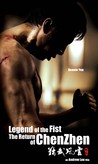 Summary:

Seven years after the apparent death of Chen Zhen, who was shot after discovering who was responsible for his teacher's death (Huo Yuanjia) in Japanese-occupied Shanghai. A mysterious stranger arrives from overseas and befriends a local mafia boss. That man is a disguised Chen Zhen, who

Seven years after the apparent death of Chen Zhen, who was shot after discovering who was responsible for his teacher's death (Huo Yuanjia) in Japanese-occupied Shanghai. A mysterious stranger arrives from overseas and befriends a local mafia boss. That man is a disguised Chen Zhen, who intends to infiltrate the mob when they form an alliance with the Japanese. Disguising himself as a caped fighter by night, Chen intends to take out everyone involved as well as get his hands on an assassination list prepared by the Japanese.

…

Expand
Director:

Wai-keung Lau

Genre(s):

Action

,

Drama

,

History

Runtime:

105 min
Please enter your birth date to continue:
You are not allowed to view this material at this time.
It's just too bad that Legend Of The Fist breaks up that action with long scenes of well-dressed men and women sitting around in nightclubs, talking politics.

This isn't at the same level of quality as Yen's "Ip Man 2," which played earlier this year and was one of the best martial arts movies in a long time. But it is entertaining, even if it does ask you to suspend boatloads of disbelief.

This superhero spin on a largely Eastern legend will appeal primarily to Asian genre aficionados on homevid.

It's generally fun to watch Mr. Yen move and not much fun to watch him act, and Legend of the Fist is no exception.

Anyone who's seen a martial-arts picture expects a certain amount of thumb-twiddling between the big numbers, but director Andrew Lau's handling of exposition is markedly poor, distended with rubbish plotlines, flashy sadism, and overwrought jingo.

Comes close to overdosing on bone-pulverizing kickassery at the expense of a plot that ricochets from the nationalistically fatuous to the lovestruck, farcical before shutting down completely in favor of punch-drunk loveliness.
Legend of the Fist maybe a little boring at times due to the average story, but going through that to see the spectacular choreography of the

Legend of the Fist maybe a little boring at times due to the average story, but going through that to see the spectacular choreography of the fight scenes are totally worth it. Every fight scene is handled with care and will entice any fan of martial arts films.

…

Expand

About average as martial arts pics go anymore. Donnie Yen is fun to watch as always. This Chinese-language film takes the typical

About average as martial arts pics go anymore. Donnie Yen is fun to watch as always. This Chinese-language film takes the typical anti-Japanese stance which is understandable given the setting. I would however for once like to see western actors in an Asian film be proficient enough in the language they're speaking as not to look like Jar Jar Binks attempting to perform Shakespere. Poor dubbing aside Return of Chen Zhen is a pretty good film. It is well choreographed and should satisfy action lovers.

…

Expand