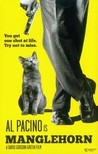 Summary:

Reclusive small town locksmith Angelo Manglehorn (Al Pacino) has never quite recovered from losing the love of his life, Clara. Fixated on her memory, he feels closer to his beloved cat than the people around him and prefers to find comfort in his work and daily routine. Still, he forges on

Reclusive small town locksmith Angelo Manglehorn (Al Pacino) has never quite recovered from losing the love of his life, Clara. Fixated on her memory, he feels closer to his beloved cat than the people around him and prefers to find comfort in his work and daily routine. Still, he forges on with his tenuous human connections, maintaining intermittent contact with his son, taking misplaced pride in a former protégé gone astray, and establishing a cautious friendship with a kindhearted woman from the local bank. As this solitary man approaches the possibility of new love, he finds himself at a crossroads between remaining consumed by the past and embracing the present.

…

Expand
Director:

David Gordon Green

Genre(s):

Drama
Green operates in a smarter mode of storytelling, giving the audience the benefit of the doubt that they'll notice the details, and he's clearly whispered Pacino into giving a nuanced and human-sized turn.

Manglehorn is a lush, hazy drama that requires a certain open-mindedness, but there's no doubting the craft of its director, who continues to prove himself one of the less predictable and most skilled craftsmen around.

For filmmaker and actor, even on those occasions when Manglehorn's risks do not pay off, we have to credit the courage and confidence it took to attempt them; but more often than not they pay dividends and the result gently dazzles.

Something about working with Pacino forces what could have been a breaks-the-mold character portrait into factory-made territory.

The style, one senses, is overcompensating for a narrative slackness that has nowhere particular to go other than anti-climax. That's not to say that Manglehorn isn't a good film - it is. It's just that Pacino's seasoned performance deserved a great film.

The mix of limpid naturalism with lyricism that has often distinguished David Gordon Green's indie films slides into sentimentality, or worse yet, whimsy in Manglehorn.