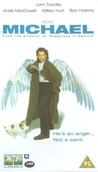 Director:

Nora Ephron

Genre(s):

Drama

,

Fantasy

,

Comedy

,

Romance

Rating:

PG

Runtime:

105 min
Director Nora Ephron and her co-writers, sister Delia plus Pete Dexter and Jim Quinlan (the latter two wrote the original story), bring a smart contemporary sensibility to the hokum, hilarity and heart-tugging that have made for many a classic Hollywood entertainment.

Michael doesn't set up big drama or punch up big moments. It ambles.

It's a little too low-key to be an effective romance and a little too soft to be anything more ambitious. Ultimately, it's neither offensive nor horrible; it's just another unspectacular, uninspired entry on Nora Ephron's erratic resume.

The script is clichéd and uninspired, the tone veering uneasily between unamusing comedy and over-sincere drama, all theological issues are weakly circumvented and the characters hardly relate to each other, let alone to any of their onscreen activities.

The director, Nora Ephron, displays her peerless gift for making everything seem snappy and mushy at the same time, and Travolta's performance has a slovenly, I-can-do-anything-and-you'll-still-love-me obnoxiousness.

The banality of the plot and the writing make the presence in the cast of the celebrated William Hurt, Andie MacDowell and Bob Hoskins all the more disheartening. [03 Mar 1997 Pg.30]

After the disastrous "Mixed Nuts," her last holiday season folly, Ephron appears to have hunkered down for a career of pandering mediocrity.
Just as an angel, it's soft and delicate. There aren't too many big moments, but along the way you do develop feeling. You can likely thank

Just as an angel, it's soft and delicate. There aren't too many big moments, but along the way you do develop feeling. You can likely thank Nora Ephron for that.

…

Expand