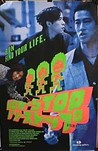 Starring:

Shin'ichi Tsutsumi

Summary:

The story of three losers brought together by fate with disastrous results. (Shooting Gallery)
Sabu takes an already wildly original concept and launches it toward brilliance.

With very little dialogue and through what's essentially a gimmick, we come truly to like these guys.

This tragicomic tale doesn't have the supercharged brilliance of "Run Lola Run," which it occasionally resembles, but it's certainly fast-moving and action fans should enjoy it.

Give this Japanese import points for originality, but not much else.

It doesn't add up to much more than a trifle that might have been more impressive as a short.