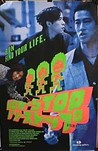 Starring:

Shin'ichi Tsutsumi

Summary:

The story of three losers brought together by fate with disastrous results. (Shooting Gallery)
Sabu takes an already wildly original concept and launches it toward brilliance.

A reminder of the offbeat comic sensibility and visceral charge that marked him (Sabu) as a director to watch.

Give this Japanese import points for originality, but not much else.

It doesn't add up to much more than a trifle that might have been more impressive as a short.