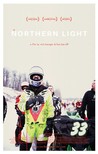 Summary:

Set against the backdrop of a town's annual snowmobile race, this observational documentary explores the American working class experience through two families.
[A] strange, singular heartbreaker of a film about life still flourishing in the most inhospitable conditions.

The film has an atmosphere of endless experimentation, which compliments the constant revision the subjects apply to their lives in the wake of their economic insecurity.

There's a stillness to the filmmaking, coupled with Saunder Jurriaans and David Bensi's truly lovely original score, that lends specific shots... a near-heartbreaking melancholy.

Where some other recent observation-only docs (a format seemingly on the rise among festival entries) have suffered from sluggish pacing or needless obscurity, Light benefits from Yoonha Park's editing, which keeps things moving without suffering from ADHD.