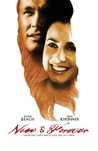 Summary:

A thought provoking dramatic love story combining elements of spirituality, heart and integrity -- tragic in one sense, but illuminating and uplifting in the other. (Illuminare Entertainment)
Director:

Bob Clark

Genre(s):

Drama, Romance

Rating:

R

Runtime:

101 min
A love story that veers uneasily between mysticism and melodrama.

Combining an interracial friendship with an age-old love story is certainly a worthy idea, but this poorly executed film is riddled with every cliché in the book and then some.

Theresa Russell is terrific as Angela's slatternly but loving mother, but her character disappears abruptly midway through the movie.

A preposterously convoluted and exasperatingly sappy saga.
This movie is full of so much beauty and compassion... I was left overwhelmed with an undescribible feeling of truth and beauty. The best mov

ie I have ever seen... and I don't say that lightly.

…

Expand

It is a rare movie that has grit and passion. It is heartwarming. It teaches patience as a backdrop to a much to real love story. It has "Six

th Sense" elements and was very touching. If I could change anything, it would be that I felt sorry for Mia and her fellow actors for performing some scenes. The performances were realsitic all the way around. You are left with the knowledge that you have just watched one of the unforgettable movies of your lifetime.

…

Expand