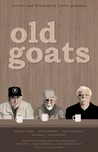 Summary:

Old Goats is a comedy that features three elderly men playing themselves, but within a fictional framework. Britt lives alone on a boat and searches for excitement and romance in his life. Bob writes a book of memoirs about his life as a soldier, para-trooper, and bush pilot, but is uneasy

Old Goats is a comedy that features three elderly men playing themselves, but within a fictional framework. Britt lives alone on a boat and searches for excitement and romance in his life. Bob writes a book of memoirs about his life as a soldier, para-trooper, and bush pilot, but is uneasy about revealing his sins as a younger man. David is struggling to adapt into retired life while living with his bossy wife.

…

Expand
Director:

Taylor Guterson

Genre(s):

Biography

,

Comedy

Rating:

Not Rated

Runtime:

91 min
Please enter your birth date to continue:
You are not allowed to view this material at this time.
[Guterson] has crafted a near-masterpiece of understated humor and empathy, demonstrating that, despite Hollywood's usual indifference, it's possible to make authentic, funny, engaging films about characters over the age of 50 who are neither grizzled hit men nor sassy grandmas.

Old Goats is a nice little slice of life, even if it's a (partly) fictional one.

Taylor Guterson's film offers thoughtful, if familiar, comments on friendship, self-doubt, and romantic angst.

The root of the movie's appeal is less the scripted story than watching three game oldsters.

The semi-documentary format and the cast's age could have been used to undermine or examine the ways male bonding in films is used to erase or denigrate women. Instead, the twists are simply used to excuse the usual tropes.