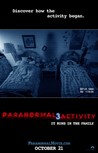 Summary:

The third installment of the Paranormal Activity follows Katie and Kristi in the 80s during their first encounter with the evil kind.

Please enter your birth date to continue:
You are not allowed to view this material at this time.
The bottom line, for me, is this: I don't scare easily at horror films, but I watched Paranormal Activity 3 in a state of high anxiety.

The filmmakers throw in a few cheesy scares: mom in a monster mask, a baby sitter jumping in front of a camera. But the rest is pretty freaking cool.

Co-directors Henry Joost and Ariel Schulman cut their teeth on 2010's glib social-media mystery "Catfish,'' and since they're clever boys, they make the most of the series' new toy. Otherwise, Paranormal Activity 3 is almost identical to, and just as eerily effective as, the first two films in its alternation of cheesy "boo!'' tactics and genuine scares.

Paranormal Activity 3 delivers similarly eerie moments, though long stretches go by where nothing truly ominous occurs.

I fully expect Paranormal Activity 3 to be box office gold. But it's barely worth two stars, let alone two cents. As for future followups, I offer this plea: STOP!

This Paranormal doesn't tamper with the formula that worked in the first two films. It lacks the "money" moments that those films delivered and ends with a finale that is downright conventional. "Paranormal" reveals itself for what it has become, the "Saw" of found video thrillers.

Inexplicably, there are people who still haven't had enough of these movies. The first was a nifty novelty. Now the appeal has worn threadbare.
I am a long time fan of horror/thriller movies and books, tending to lean towards the **** ideals, but not discounting slasher films. I'll not

I am a long time fan of horror/thriller movies and books, tending to lean towards the **** ideals, but not discounting slasher films. I'll not drone on about camera technique, nor the type of medium used,(tho I will say the acting and direction of the two lil starlets in this piece was great :-D ). As most know this story chronicles the "other worldly" lives of two sisters but in reverse, the latest film being them as children. I did enjoy the first two,seeing them on DVD, but was hesitant to spend money at a large theater filled with whispers and cell phones when in a couple months I could watch it for half the price in the comfort of my home.My niece , however, also a fan of the scream screen, was desperate to the point of, "I'll die if i can't see it opening night at midnight!!", and it being R rated...I couldn't give her money and toss her at the mall while pausing in front of the doors, and go to Applebee's for a couple **** while I waited. So, being the dutiful Uncle I am, I grudgingly relaxed a little after work and grumbled up to the theater so she could see the premier. Once seated in the theater, the previews included a trailer of a P.A. (Paranormal Activity) type movie involving a mental hospital and exorcisms with some very good special affects were played, adding to the normal tension associated with horror flicks in the the theater. The film began with no hoopla or credits, it was just there and playing. I could feel the anxiey n the place rise like a presence to a point where allmost all "surprise" in the film caused shrieks and giggles and I was bored already, but very soon...I developed a wickid lil grin. This was the best of the three, the screams from the audience were nearly defening and even young men were clenching so fast they came out of their seats and trashed anybravado they had shown coming in, while I was trying hard to watch the entire screen so I wouldn't miss any of the lil "creepys" that popped up. My 12 year old niece in the mean time went from a state of interest, to fasination, to mild fear up to an occation "freak-out", (baring in mind she' a BIG fan of "the Grudge" tp the point of knowing all the characters and watching the japanese version "Ju-on" as well as "The Ring" and the "Saws" franchise)but thats the point of going to these things in the first place. I was her age when the original "exorcist" came out and, like her, I was looking in the shadows and searched every room when I got homeand even having the light on was only minor comfort,( noooo Im NOT mean...she wants to see it again by the way) Long story short, ( to late),this is a must see film worth admissionlike a good roller coaster it should make you walk out going "HOLY CRAP" or it's just another day. ;-P......P.S. I don't like the way this format does corrections

…

Expand

PA3 converted from seriousness to actively corny. The corniness was twitching and surprising, and props to H.J. and A.S. for transforming the

PA3 converted from seriousness to actively corny. The corniness was twitching and surprising, and props to H.J. and A.S. for transforming the PA3 series into something different; which isn't always bad.

…

Expand

I saw this movie with my friend oppening weekend, i'm a big fan of the PA movies and love all of them, this one on the other hand was the best

I saw this movie with my friend oppening weekend, i'm a big fan of the PA movies and love all of them, this one on the other hand was the best of the 3. It had amazing camera angles, and scares that will haunt me to this day. I was whimpering the whole time. At the end of the movie, which will haunt me for the rest of my life, my friend and I through our slusshies and ran out of the theater. Bottom line, Scary.

…

Expand

See-it - This haunted-house-slash-demonic-possession prequel is the best scary movie of the year, and the directing duo from Catfish brings a

See-it - This haunted-house-slash-demonic-possession prequel is the best scary movie of the year, and the directing duo from Catfish brings a fresh, sharp, much-needed jolt to PA3 that makes it worth seeing whether you're a PA-virgin or not.

…

Expand

It's a good movie, but the end is not good, but the whole movie was good, and this movie is the best of the two others movies about Paranormal

It's a good movie, but the end is not good, but the whole movie was good, and this movie is the best of the two others movies about Paranormal Activity

…

Expand

Some pretty legitimate scares within the film, but the movie's horrible ending ultimately mars my enjoyment a bit.

Worst movie in the universe! don't watch if you don't want to be bored to death! nearly not scary at all! It's not worth anything at all!

Worst movie in the universe! don't watch if you don't want to be bored to death! nearly not scary at all! It's not worth anything at all! What's so good about this movie!

…

Expand