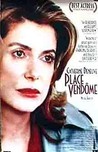 Starring:

Catherine Deneuve

Summary:

Catherine Deneuve is the alcoholic wife of a diamond merchant who must re-enter the secretive and glamorous world of the gem trade upon her husband's death.
Director:

Nicole Garcia

Genre(s):

Drama

,

Crime

Rating:

R

Runtime:

117 min
This complex, sophisticated and increasingly suspenseful tale of love and betrayal, intrigue and redemption, is as elegant as its star and its settings.

Taut and nuanced from start to finish, with memorable, lived-in central characters and an appealingly melancholy tone, helmer/co-scripter Nicole Garcia's third feature has what it takes.

Long and slow, granted, but it's so peppered with moments of realism and nuanced craft that it continually rewards careful viewing.

This is a quiet thriller and a middle-aged romance, and it's full of desperation and oozing anxiety.

Consistently absorbing as the amazing Deneuve reveals, scene by scene, new facets of a fascinating character in a mercantile war that involves equal parts greed and vanity.

In spite of its many flaws, the film never loses its focus on its fascinating central figure.

Heavy-handed, predictable and almost completely unbelievable.