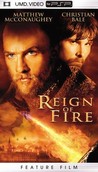 Starring:

Christian Bale, Matthew McConaughey

Summary:

An exciting tale of adventure and survival that fuses a medieval past with a post-apocalyptic future. (Buena Vista Pictures Entertainment)
Director:

Rob Bowman

Genre(s):

Action, Sci-Fi, Thriller, Fantasy

Rating:

PG-13

Runtime:

101 min
The fact that Reign of Fire does what it sets out to do is a cause for celebration amongst those who like special effects-laden action movies featuring fire-breathing monsters and mayhem.

An uncommonly satisfying mix of medieval fantasy, high-tech military action and "Mad Max"-style misadventure.

Often incomprehensible (a combination of jumpy editing and lots of thick British Isles accents) and hardly ever entertaining - even unintentionally.

It strains belief that nuclear weapons couldn't kill off the dragons, but three people with crossbows could.
I love this movie, its great. Don't know why it received such bad reviews, after all, its fantasy.

Best epic of the year! I was at the edge of my seat throughout the whole movie. The only problem is that the story needs some work.

Not the best movie ever... but mildly entertaining. The characters are somewhat likable and the story was predictable but decent. PS Aron, yo

ur not cool and couldn't write a review worth reading to save your life... regardless of what Mindy might think.

…

Expand

A stupid ending, with laughable dialogue and Matthew McConaughey looking and acting like something out of GI joe and yet I was never bored and

found it quite entertaining. I'm a bit annoyed though because it's never as epic or explosive as it should be and never as heartfelt as it wants to be. The cover and posters are misleading

…

Expand