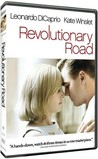 Starring:

Kate Winslet

,

Leonardo DiCaprio

Summary:

Adapted from the landmark novel by Richard Yates, Revolutionary Road is an incisive portrait of an American marriage seen through the eyes of Frank and April Wheeler. Yates' story of 1950's America poses a question that has been reverberating through modern relationships ever since: can two

Adapted from the landmark novel by Richard Yates, Revolutionary Road is an incisive portrait of an American marriage seen through the eyes of Frank and April Wheeler. Yates' story of 1950's America poses a question that has been reverberating through modern relationships ever since: can two people break away from the ordinary without breaking apart? (Paramount Vantage)

…

Expand
Director:

Sam Mendes

Genre(s):

Drama

,

Romance

Rating:

R

Runtime:

119 min
Please enter your birth date to continue:
You are not allowed to view this material at this time.
Indeed, all of the performers in the film truly shine, and all of them can probably thank Sam Mendes for creating an ideal environment.

There isn't a banal moment in Winslet's performance--not a gesture, not a word. Is Winslet now the best English-speaking film actress of her generation? I think so.

The best thing about Revolutionary Road, a cool-blooded and disquieting adaptation of Richard Yates' 1961 novel about a powerfully unhappy Connecticut couple, is that it doesn't end with that rote vision of bourgeois anomie. It only begins there.

However sterling the craftsmanship, the film adaptation inflates the meaning and buffs the atmospheric surfaces of Yates' story, rather than digging into its guts.

Revolutionary Road isn't a great movie -- it lacks the full, soul-crushing force of the novel -- but what works in it works so well, and is so tricky to pull off, that you can't help but admire it.

Leonardo DiCaprio and Kate Winslet do exactly what's asked of them as Frank and April Wheeler, who may be ironically named: They spin emotional wheels constantly but get nowhere.

Revolutionary Road isn't just a failed literary adaptation. It's a failure of the worst kind: It doesn't even make you want to read Richard Yates' deservedly legendary book.
Easily the best film of 2008. It is SO annoying that a film that tackles the subject of sububan unhappiness is getting such low scores from

Easily the best film of 2008. It is SO annoying that a film that tackles the subject of sububan unhappiness is getting such low scores from those who think it is too depressing. Life can be depressing! To assume that all films should be happy and void of emotions such as loss, fear, emptiness, sorrow and regret would make going to the movies a bore. Mendes is a master filmmaker and this ranks as one of his best works. This film is only for those who can appreciated the mastery of a genius director and actors at the top of their game!

…

Expand

A beautiful film! A movie that as of now, will be looked at as an average-to-bad drama, but years from now will be appreciated for its

A beautiful film! A movie that as of now, will be looked at as an average-to-bad drama, but years from now will be appreciated for its intelligence and its craft. The best film of the year, and one of the best dramas of the decade. Most masterpieces ripen with age. "Revolutionary Road" will be seen the way it should in the next 20 years.

…

Expand

It's a beautiful film ! Oscar for diCaprio !!!

Great acting for people who like realistic depictions.

A beautiful, heartwrenching film with signature performances from Kate Winslet and Leonardo Dicaprio. Sam Mendes delves honestly into a

A beautiful, heartwrenching film with signature performances from Kate Winslet and Leonardo Dicaprio. Sam Mendes delves honestly into a marriage that is running on empty, without the hopes and dreams it started out with. Every credit in this movie is flawless and I am baffled by the Academys indifference to it. It is not a cold heartless movie but a tragically real and honest film.

…

Expand

Revolutionary road is neither a good film nor a bad film. It is good because the actors are amazing and it is bad because it has gaps in the

Revolutionary road is neither a good film nor a bad film. It is good because the actors are amazing and it is bad because it has gaps in the plot and some things happen for no reason and they are not explained or even discussed in the film. Leonardo Dicaprio, Kate Winslet and Michael Shannon were great. The plot and what was happening in the film was not well done and it had serious gaps. Such a shame as it could have been a much better drama

…

Expand

Without question the worst movie I have seen in years, almost without redeeming features. An unbelievable plot, a hyper-exaggeration of

Without question the worst movie I have seen in years, almost without redeeming features. An unbelievable plot, a hyper-exaggeration of suburban angst, with characterisations lacking in warmth and softness, the perfunctory callous sexual scenes unsizzlingly pornographic - as if all these things were clever or artistic to set out thus. I often like Kate Winslett's performances, in fact as she's a distant cousin I am predisposed to approve, but even that can't elevate this movie to adequacy. If you are contemplating suicide, breakup or mental breakdown, by all means go for it, it will nicely help you on your way; otherwise, do yourself a favour and stay away.
How this ever got nominated for awards is amazing to me, a testament perhaps to the "Emperor's New Clothes" effect.

…

Expand