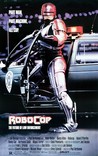 Starring:

Nancy Allen

,

Peter Weller

Summary:

When Officer Alex J. Murphy (Weller) is murdered in a futuristic crime-ridden Detroit, scientists and doctors decide to turn him into a "Robocop". He seeks revenge when memories of his past life return.
Director:

Paul Verhoeven

Genre(s):

Action

,

Sci-Fi

,

Drama

,

Thriller

,

Crime

Rating:

R

Runtime:

102 min
Please enter your birth date to continue:
You are not allowed to view this material at this time.
Robocop is as tightly worked as a film can be, not a moment or line wasted.

Robocop is one weird and entertaining hybrid of camp and sci-fi shoot-'em-up.

It was this love of mayhem combined with a biting comic attack on neo-fascist corporatism - most notably seen in the TV ads for products like the apocalyptic board game Nuke 'Em - which helped raise Robocop above the common sci-fi herd.

[Verhoeven's] cold, slick, funny, high-powered movie is informed by a humanism this genre almost always abandons in its chase after vigilante splat. [17 Jul 1987]

Great effects and a nasty undercurrent drive this vehicle.

Robocop isn't going to win Verhoeven any medals - the focus remains on action, guns and gore - but it's a flashy movie with enough wit to be more than just another dumb bucket of bolts. [17 Jul 1987]

Paul Verhoeven's RoboCop is a stylish piece of work that leaves a sour aftertaste. [17 Jul 1987]
I am supremely impressed. not by the fact that it avoid the typical inept 80's action movie stereotypes, but by the entire film. It's epic,

I am supremely impressed. not by the fact that it avoid the typical inept 80's action movie stereotypes, but by the entire film. It's epic, it's grand, it's just so goddamn amazing. One would expect less, but when that one person decides to see this, they will be smiten and ashamed as to their thoughts of the movie prior.

…

Collapse

This was supposed to be a film destined to Class B, but people now a days and since its premiere the Legendary looks, and I do not disagree,

This was supposed to be a film destined to Class B, but people now a days and since its premiere the Legendary looks, and I do not disagree, it is.
Hail, Paul Verhoeven!

…

Expand

The "critic" that gave this film a 5/10 is probably mentally-ill. This film is amazing. It's stylish, brutal, witty, and oh, so satisfying.

The "critic" that gave this film a 5/10 is probably mentally-ill. This film is amazing. It's stylish, brutal, witty, and oh, so satisfying. The best action flick of the 80's in my opinion.

…

Expand

I love the work of Paul Verhoeven and Robocop is not an exception to this rule. An astute criticism of American culture and also a fantastic

I love the work of Paul Verhoeven and Robocop is not an exception to this rule. An astute criticism of American culture and also a fantastic shoot em up late 80's action flick, Robocop features solid acting, solid special effects, and a killer plot coupled with great direction and writing. A fun and entertaining film, Robocop works on both a pure entertainment level and the satirical level, similar to Verhoeven's later work on Starship Troopers. In Robocop, Verhoeven uses its relatively straight forward plot as a tool to critique American culture, namely when it comes to violence, television, the military, capitalism, and the very infrastructure of our society. In addition, I also really thought Verhoeven was ahead of his time in his portrayal of women here, as they are shown as being largely on the same playing field as men and if you did not know better, you would have no idea what gender they are. Somehow, this film was criticized for being sexist, but I have no idea how. As I watched, I was struck by how well done the women in the film were, but I guess maybe I am the one who is wrong. Who knows. Anyways, Robocop is a very well made action film by Paul Verhoeven that is both entertaining and thought provoking.

…

Expand

After watching the new RoboCop and seeing how bad it was i thought id give the original another try. Its been years since the last time i

After watching the new RoboCop and seeing how bad it was i thought id give the original another try. Its been years since the last time i watched the movie but i remember that it was totally kickass. Just like i remember i loved the movie right from the beginning this like many other 80's and 90's action movies feels more raw and real rather then the action movies we have now. There is no comparing this to the new RoboCop movie as this movie is hands down miles better then its remake even Peter Weller as RoboCop/Murphy was better then Joel Kinnaman and hewas the best part of that of the remake. The action is great and a bit brutal which i thought was awesome even though some of the action scenes were stop motion/go motion but i found those parts to be funny. Though with the remastered Blu ray version that was just released last month the whole movie looks absolutely amazing if you are going to be watching this movie anytime soon id recommend watching that version you wont regret it.

Overall i give it a 8.0 also Kurtwood Smith as the villain was just too funny but he did a great job.

…

Expand

In 2012, RoboCop is hilariously dated but still a great action movie from start to finish. One of the finest examples of action movie

In 2012, RoboCop is hilariously dated but still a great action movie from start to finish. One of the finest examples of action movie greatness with a story that is, surprisingly, good. A timeless classic! A must see for all action movie fans!

…

Expand

Robocop suffers a lose of imagination and action, so this film is just a mediocre sci-fi film, withboring story-telling, simple

Robocop suffers a lose of imagination and action, so this film is just a mediocre sci-fi film, withboring story-telling, simple interpretations and only violence in step of action, for try to entertain adult viewers. Nothing bad for that times...

…

Expand