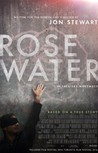 Summary:

In June 2009, Maziar Bahari (Gael García Bernal) returned to Iran to interview Mir-Hossein Moussavi, who was the prime challenger to controversial incumbent president Mahmoud Ahmadinejad. When Moussavi's supporters rose up to protest Ahmadinejad's victory declaration hours before the polls

In June 2009, Maziar Bahari (Gael García Bernal) returned to Iran to interview Mir-Hossein Moussavi, who was the prime challenger to controversial incumbent president Mahmoud Ahmadinejad. When Moussavi's supporters rose up to protest Ahmadinejad's victory declaration hours before the polls closed on election day, Bahari endured great personal risk by submitting camera footage of the unfolding street riots to the BBC. Bahari was soon arrested by Revolutionary Guard police and was tortured and interrogate over the next 118 days. [Open Road Films]

…

Expand
Director:

Jon Stewart

Genre(s):

Biography

,

Drama

Rating:

Not Rated

Runtime:

103 min
Please enter your birth date to continue:
You are not allowed to view this material at this time.
Rosewater is an earnest picture, but it's also got some juice — there's vitality and feeling in it, the secret ingredients so often missing from even the most well-intentioned first features.

Mr. Stewart's interest in the material is obviously personal, but his movie transcends mere self-interest.

Rosewater, along with his nightly mockery of the news, shows that freedom of the press has no greater champion than Jon Stewart.

Rosewater doesn't hector, nor does it giggle about the issue of press freedom. It's an impressive and important piece of storytelling.

Stewart proves to be an able filmmaker in Rosewater. But he also shows hints of being something more.

It shrugs off the bigger questions about Iranian politics its first half appears to raise, falling back instead on a gestalt of the eternal, Kafkaesque regime, wherever the viewer may find it.

Jon Stewart's filmmaking debut Rosewater has much in common with "The Daily Show" — it's blaringly obvious, it's naive, it plays to the cheap seats and it's enamored with cheap jokes.
Jon Stewart kills it with his directing debut. Excellent story line, acting, and over all film. I think New York Post is just trying to get

Jon Stewart kills it with his directing debut. Excellent story line, acting, and over all film. I think New York Post is just trying to get back at Stewart for years of him taking jabs at their rag of a newspaper.

…

Expand

Stunning bit of film making. Stewart demonstrates sensitivity and humanity, portraying every character with empathy and depth. There are no

Stunning bit of film making. Stewart demonstrates sensitivity and humanity, portraying every character with empathy and depth. There are no bad guys here –– this is beautifully aware writing and directing. In spite of it all, I found myself delighted with the Iranian spirit and wanting to go there and meet those brave, resilient people.
And Jon, please keep writing and directing!

…

Expand

Jon Stewart's debut feature is a knockout piece of filmmaking, one that tells a riveting story without becoming cliched or preachy yet

Jon Stewart's debut feature is a knockout piece of filmmaking, one that tells a riveting story without becoming cliched or preachy yet undeniably gets its point across, often with surprising wit and nuance. Gael Garcia Bernal adds another impressive showing to his growing resume of underrated performances. This picture is easily one of the year's most pleasant surprises and shows Stewart is off to a great start as a writer-director.

…

Expand

Maziar Bahari is best know for his appearance on "The Daily Show" that got him arrested and placed into solitary in his home country of Iran.

Maziar Bahari is best know for his appearance on "The Daily Show" that got him arrested and placed into solitary in his home country of Iran. Jon Stewart wrote/directed this film featuring Gael García Bernal and he did a pretty good job. The basic structure is solid and there are creative touches that show a sound understanding of the medium. It's an effectively told story, but lacks the emotional punch that would have given the days in solitary more impact. Still, it's an interesting story and a promising first effort that includes an earnest message about the freedom of speech and plight of political prisoners.

…

Expand

This is a moving tibute to the plight of Maziar Bahari and his imprisonment in Iran for his apparent status as an 'American spy' following his

This is a moving tibute to the plight of Maziar Bahari and his imprisonment in Iran for his apparent status as an 'American spy' following his contribution to a comedy sketch for The Daily Show with Jon Stewart. Written and directed by Stewart, the film chronicles Bahari's internment and provides a poignant commentary on the restrictions and difficulties faced by both journalists and citizens under the current Iranian regime. The story is compelling and the performances are excellent, though the pacing is somewhat flawed, and the cinematography and artistic inclusion of representations of 'social media' which are interspersed are somewhat contrived. Undoubtedly, this is an important story to tell, and the depiction of Bahari's struggle is worth devoting your time to. 6.89/10

…

Expand

During summer 2009, a troupe from satirical Comedy Central program The Daily Show travelled to Iran to shot a farcical reportage of the

During summer 2009, a troupe from satirical Comedy Central program The Daily Show travelled to Iran to shot a farcical reportage of the upcoming elections. The story featured Iranian Canadian journalist Maziar Bahari, jokingly answering silly questions from a comedian pretending to be an American spy. A few days later, after the show aired the taped segment, the Iranian government arrested and imprisoned Bahari. The journalist was charged with 11 counts of espionage, accused of "working for four different intelligence agencies: the CIA, Mossad, MI6 and Newsweek". Bahari was held in prison for 118 days; physically and pshychologically tortured, threatened, forced to confess his supposed wrongdoings on TV, and eventually realeased only when international pressure became overwhelming. In 2013 Jon Stewart, The Daily Show's executive producer and host, decided to write and direct Rosewater, inspired by Bahari's imprisonment memoir "Then They Came for Me". First presented at the Telluride and Toronto film festivals, Rosewater immediately distinguishes itself for its relevance to current events and its unusual style and perspective. The film, already famous for marking Stewart's cinematic debut, was also the Gala title of the "Debate" selection at this year's London Film Festival.

Starring Spanish Gael García Bernal as Bahari, Rosewater begins with the journalist's arrival in Iran, following him all through his imprisonment, and finally his release and return to London. Bahari's job as reporter for the BBC takes him on a journey across Teheran, as explained in a solid and rich first act. The sequences showing the upright political activism of Iranian communities, the showdown between Ahmadinejad and Mir-Hossein Mousavi, and the civil unrest after Ahmadinejad's victory declaration are all very touching, and Stewart manages to illustrate them flawlessly. When Bahari reaches the prison, though, the film suddenly loses all its charm. The farcical tone that Stewart tries hard to maintain throughout the story is probably his biggest mistake. It's easy and liberating to laugh at the incoherences of the government's oppression, especially when its perverse authoritarianism is conveyed through its out-of-touch pretentiousness and clownish bigotry. When slapstick comedy and funny jokes happen during brutal interrogation scenes, though, the film clearly shows all its weakness and Stewart's lack of judgment.

Jon Stewart proves to be a confident director, to a certain extent better than many other newcomers; most of them, however, probably don't have as many resources at their disposal. Despite some interesting directorial ideas, Stewart's screenwriting needs major rethinking. There's too much forced and amateurish will to sound smart, and too few occasions where Rosewater comes across as a convincing feature. Even if we overlook the debatable awkwardness of an American film questioning Middle-Eastern freedom of expression, and pass over the schlocky, outdated gimmick of having Iranians speaking to each other in English with a foreign accent, we are still left with a muddled and anticlimactic film. What really drags Rosewater down is the inadequacy of the second act: the conflict between prisoner and jailer lacks depth and suspense, especially considering that the outcome (the liberation and survival of Bahari) is well known; Stewart's expedients, both humorous and dramatic, fail to maintain an engaging enough pace. Regardless of its quality, Rosewater still deserves praise for its irreverent vein, and the idea of making fun of what most terrifies us. For his future projects, Stewart might want to reconsider his pre-production choices, while definitely keeping up the same passion and will to challenge himself.

…

Expand