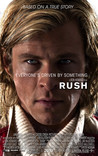 Starring:

Chris Hemsworth

,

Daniel Brühl

,

Olivia Wilde

Summary:

Set against the glamorous golden age of Formula 1 racing in the 1970s, Rush tells the true story of the great rivalry between handsome English playboy James Hunt and his methodical, brilliant opponent, Austrian driver Niki Lauda. The story chronicles their distinctly different personal

Set against the glamorous golden age of Formula 1 racing in the 1970s, Rush tells the true story of the great rivalry between handsome English playboy James Hunt and his methodical, brilliant opponent, Austrian driver Niki Lauda. The story chronicles their distinctly different personal styles on and off the track, their loves and the astonishing 1976 season in which both drivers were willing to risk everything to become world champion in a sport with no margin for error.

…

Expand
Director:

Ron Howard

Genre(s):

Action

,

Biography

,

Drama

,

Sport

Rating:

R

Runtime:

123 min
Please enter your birth date to continue:
You are not allowed to view this material at this time.
Rush ranks among the best movies about auto racing ever made, featuring two great performances from the leads, who capture not only the physical look of the racing legends they're playing, but the vastly different character traits that made their rivalry, well, made for the movies.

Howard, whose first job as a director was the 1977 Roger Corman-produced "Grand Theft Auto," has captured what is surely the greatest racing footage ever shot.

A fine and fun film tribute to the milieu, the men, women and machines in a sport that was never deadlier or more glamorous than its Disco Decade incarnation.

It rarely deviates from formula, but Rush wins big, delivering the most exciting F1 footage created for film. Like Hunt, it is sexy, funny, full of thrills. Like Lauda, it is intelligent, a bit blunt, but ultimately touching.

Howard directs Rush with speed and jangly, jarring verve, bringing the races themselves to white-knuckled life and allowing the men's stories to play out with only slightly predictable reversals, upsets and, inevitably, those hard lessons learned.

Though one enjoys and appreciates Rush for what it is, it does not thrill the blood the way we have the right to expect a film like this to do.

Ron Howard's by-the-seat-of-your-pants aesthetic makes the slower, darker sequences feel hurried and bland, especially when stacked up next to the racing sequences.
Brilliant movie, Brilliantly directed and brilliantly acted. Ron Howard once again proves he is one of the worlds best Directors. I can not

Brilliant movie, Brilliantly directed and brilliantly acted. Ron Howard once again proves he is one of the worlds best Directors. I can not say enough good things about this movie

…

Expand

This movie has a lot going on for it it's stylishly shot, has great energy and direction and a good SOLID story to go with it! The

This movie has a lot going on for it it's stylishly shot, has great energy and direction and a good SOLID story to go with it! The performances are great, at times I was sitting on the edge of my seat, other times
having a good chuckle and then other moments or actually feeling sad and sympathetic for the characters. Someone else said the audience clapped at the end of the movie, they did at my screening too.
It's pure entertainment, would have been a great summer blockbuster.

…

Expand

What an amazing movie about to legends of the track Niki Lauda is a machine unbelievable driver and technician and James Hunt just pure raw

What an amazing movie about to legends of the track Niki Lauda is a machine unbelievable driver and technician and James Hunt just pure raw talent Chris Hemsworth & Daniel Brühl do them both justice such a enjoyable movie well filmed really intense action just one of them all round completely brilliant films a must see.

…

Expand

Rush is a very stylish and slick sports drama that features very strong performances from Daniel Brühl and Chris Hemsworth along with

Rush is a very stylish and slick sports drama that features very strong performances from Daniel Brühl and Chris Hemsworth along with realistic high-octane race sequences.

…

Expand

I hate racing, but Rush isn't about racing by itself, it's about an intense rivalry. Even the racing is made interesting because of the sound,

I hate racing, but Rush isn't about racing by itself, it's about an intense rivalry. Even the racing is made interesting because of the sound, score, and cinematography.

Rush gets an 8.3/10

…

Expand

Rush is one of Ron Howard's best films, due largely in part to the performances of Hemsworth and Bruhl. That last, rainy race represents one

Rush is one of Ron Howard's best films, due largely in part to the performances of Hemsworth and Bruhl. That last, rainy race represents one of the year's most exciting action sequences.

…

Expand

Firstly, all the race scenes including spectators were just ripped-off from the original race clips!!! Secondly, did Lauda used the "F" word

Firstly, all the race scenes including spectators were just ripped-off from the original race clips!!! Secondly, did Lauda used the "F" word often. Hemsworth and Burl did their job well. Overall the movie was nothing original!!!

…

Expand