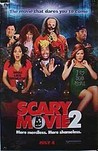 Summary:

While "Scary Movie" targeted the onslaught of teen horror film flicks, the sequel takes aim at the root of the great classic horror movies. (Dimension Films)
The Wayanses can be crude beyond crude, but they're so clever that their inventiveness takes the place of taste.

A satisfying hatchet job on the spooky -- or as the Wayans see it, kooky -- world of supernatural pictures.

It's a formula and hard to describe as good in any artistic sense, but the viewers who pay to see it -- and many, many people are going to -- will get exactly what they want.

Scary Movie 2 has something for potheads and the potty-mouthed alike. Anyone looking for a true sequel, however, will be disappointed.

Technically and comedically strained by the demands of its special effects-filled haunted house setting. Worse, the need to top the first pic's outlandish stunts is ghoulishly unfulfilled and terribly ironic.

A pocket of infection on the skin of the American body cultural.

The Wayans brothers' new bottom-feeder signals its utter exhaustion -- and barely veiled contempt for the audience.
Well, I was high when I watched it and I totally lost it to Chris Elliots "arm"...laughed until my face and stomach hurt every time he used

Well, I was high when I watched it and I totally lost it to Chris Elliots "arm"...laughed until my face and stomach hurt every time he used it...Perfect movie. I also saw it when I wasn't high and wondered what was so funny. I'm going to get high again and watch it to see if it was the movie or my bud.

…

Expand

Not as good as the first one but still made me laugh like never before.

Unlike the first film this one took quite a slip thanks to a very bad storyline & messy parodies merged into one. There were reasons behind

Unlike the first film this one took quite a slip thanks to a very bad storyline & messy parodies merged into one. There were reasons behind the slip-up's but at the end of the day it still got chuckles out of me more thanks to the characters and actors in the film rather than the content. This was also the last of the series that the Wayans Brothers worked on, perhaps a good thing as the next two were better than this one, but you can't skip this one when watching the others!

…

Expand

The first Scary Movie wasn't exactly brilliant but this is a really bad film. They replaced the (in places) hilarious antics of the first

The first Scary Movie wasn't exactly brilliant but this is a really bad film. They replaced the (in places) hilarious antics of the first movie and put feces humour in it's place. Out of the 4 Scary Movies I have seen this is the worst. I do not recommend this to anyone.

…

Expand

This movie makes the Hangover 2 look hilarious. While the movie seems to have some ambition nothing in this movie was funny. The jokes all

This movie makes the Hangover 2 look hilarious. While the movie seems to have some ambition nothing in this movie was funny. The jokes all fall flat on their face. All the laughter was forced. Maybe the first one was hilarious but this one is complete sh*t. One of the worst comedies/films I've ever seen. Didn't finish it but I'm going to assume the rest was sh*t. Do not watch this movie unless you like bad movies.

…

Expand

While Scary Movie was eye catching, Scary Movie 2 sucks. Progeny spoofs, bloody bad comedy and Anna Faris who saved the day by 4 minutes so

While Scary Movie was eye catching, Scary Movie 2 sucks. Progeny spoofs, bloody bad comedy and Anna Faris who saved the day by 4 minutes so the audience won't buzz off. SM2 is a really bad gumbo jumbo movie that is not worth a watch.

…

Expand