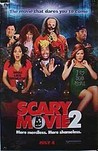 Summary:

While "Scary Movie" targeted the onslaught of teen horror film flicks, the sequel takes aim at the root of the great classic horror movies. (Dimension Films)
Director:

Keenen Ivory Wayans

Genre(s):

Comedy

Rating:

TV-14

Runtime:

83 min
The Wayanses can be crude beyond crude, but they're so clever that their inventiveness takes the place of taste.

Just a bunch of spotty sketches slapped together that will satisfy no one except the diehards.

Scary Movie 2 had seven writers. Seven. That's one writer for every big laugh in its stealthy 82 minutes. More frightening: these jokes are worth waiting for.

The material has a definite "haven't-we-been over-this-before?" feel.

The movie occasionally makes an unexpectereference -- though with more desperation than wit.

The whole thing reeks of sequelitis, with an emphasis on the rude and crude.

The Wayans brothers' new bottom-feeder signals its utter exhaustion -- and barely veiled contempt for the audience.
Well, I was high when I watched it and I totally lost it to Chris Elliots "arm"...laughed until my face and stomach hurt every time he used

Well, I was high when I watched it and I totally lost it to Chris Elliots "arm"...laughed until my face and stomach hurt every time he used it...Perfect movie. I also saw it when I wasn't high and wondered what was so funny. I'm going to get high again and watch it to see if it was the movie or my bud.

…

Expand

Not as good as the first one but still made me laugh like never before.

Unlike the first film this one took quite a slip thanks to a very bad storyline & messy parodies merged into one. There were reasons behind

Unlike the first film this one took quite a slip thanks to a very bad storyline & messy parodies merged into one. There were reasons behind the slip-up's but at the end of the day it still got chuckles out of me more thanks to the characters and actors in the film rather than the content. This was also the last of the series that the Wayans Brothers worked on, perhaps a good thing as the next two were better than this one, but you can't skip this one when watching the others!

…

Expand

Scary Movie 2 has an opening that will make you cry it is so funny but then it falls right of the cliff. The movie offers nothing else to add

Scary Movie 2 has an opening that will make you cry it is so funny but then it falls right of the cliff. The movie offers nothing else to add to its hilarious begginning. Not as good as its prequel.

…

Expand

a movie you could tell was rushed and just tossed out there to capitalise quikly off the first one. there was some funny moments but alot of

a movie you could tell was rushed and just tossed out there to capitalise quikly off the first one. there was some funny moments but alot of it just wasnt very good . you should probubly pass on it.

…

Expand

This sequel does have a couple funny moments, but most of the jokes fall flat and just come out as awful. And though this sequel has a bigger

This sequel does have a couple funny moments, but most of the jokes fall flat and just come out as awful. And though this sequel has a bigger budget compared to its predecessor, this feels much cheaper and uglier than it. Scary Movie 2, overall, is a cheap and forgettable sequel that recycles jokes and fails to even produce any good ones as well (though it is humorous at some times).

…

Expand

While Scary Movie was eye catching, Scary Movie 2 sucks. Progeny spoofs, bloody bad comedy and Anna Faris who saved the day by 4 minutes so

While Scary Movie was eye catching, Scary Movie 2 sucks. Progeny spoofs, bloody bad comedy and Anna Faris who saved the day by 4 minutes so the audience won't buzz off. SM2 is a really bad gumbo jumbo movie that is not worth a watch.

…

Expand