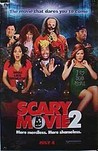 Summary:

While "Scary Movie" targeted the onslaught of teen horror film flicks, the sequel takes aim at the root of the great classic horror movies. (Dimension Films)
Director:

Keenen Ivory Wayans

Genre(s):

Comedy

Rating:

TV-14

Runtime:

83 min
The Wayanses can be crude beyond crude, but they're so clever that their inventiveness takes the place of taste.

It's a lot more tightly focused than the first outing, and for fans of the demented comedy of Elliott and Cross, or the thespian chops of Woods (a last-minute replacement for an ailing Marlon Brando), it's worth putting up with humor that's the filmic equivalent of a big, spit-soaked raspberry.

The material has a definite "haven't-we-been over-this-before?" feel.

Scary Movie 2 has something for potheads and the potty-mouthed alike. Anyone looking for a true sequel, however, will be disappointed.
Well, I was high when I watched it and I totally lost it to Chris Elliots "arm"...laughed until my face and stomach hurt every time he used it

...Perfect movie. I also saw it when I wasn't high and wondered what was so funny. I'm going to get high again and watch it to see if it was the movie or my bud.

…

Expand

Not as good as the first one but still made me laugh like never before.

a movie you could tell was rushed and just tossed out there to capitalise quikly off the first one. there was some funny moments but alot of i

t just wasnt very good . you should probubly pass on it.

…

Expand

This sequel does have a couple funny moments, but most of the jokes fall flat and just come out as awful. And though this sequel has a bigger

budget compared to its predecessor, this feels much cheaper and uglier than it. Scary Movie 2, overall, is a cheap and forgettable sequel that recycles jokes and fails to even produce any good ones as well (though it is humorous at some times).

…

Expand