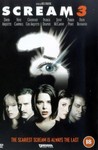 Starring:

Courteney Cox, Neve Campbell

Summary:

Stars Neve Campbell, David Arquette and Courtney Cox Arquette are back for more in the chilling final chapter of this phenomenally popular and frightfully entertaining trilogy. While Sydney Prescott (Campbell) lives in safely guarded seclusion, bodies begin dropping around the Hollywood set

of "Stab 3," the latest movie sequel based on the gruesome Woodsboro killings.

…

Expand
Director:

Wes Craven

Genre(s):

Mystery, Thriller, Horror, Comedy

Rating:

R

Runtime:

116 min
For the initiated, the third time's a charm. For everyone else, it's just a scream.

I enjoyed every moment of this densely plotted final chapter, and most other fans will too.

Not so good is the absence of hip cross-references to the classic horror tropes.

At 116 minutes, this third installment lumbers along like a serial killer in shackles.
I'm gonna go against the crowd and say that this was my favorite installment of "Scream." It has a a good plot, a good music score, a great ca

st, everything that's suppose to be in a film. I also liked the small tastes of humor that were presented through out the film. Great movie! The "Scream" Trilogy is the best horror trilogy of all time.

…

Expand

While not a horrible film by any means, Scream 3 certainly doesn't live up to the heights established by its predecessors. It has its good mom

ents, such as Parker Posey's performance as a whole, but all in all, it's not scary nor does it deliver any tension. This is a horror film, right? I didn't like how it took a more comedic route; it made the film dwell into self-parody.

Not terrible (as aforementioned), but it definitely isn't good. Not even close.

…

Expand

They say third time's a charm. Well, wait until you see "Scream 3", and then you WILL 'scream'.