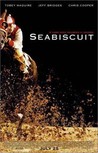 Starring:

Chris Cooper

,

Jeff Bridges

Summary:

The tale of a down-and-out racehorse that took the entire nation on the ride of a lifetime. (Universal Pictures)
Director:

Gary Ross

Genre(s):

Drama

,

History

,

Sport

Rating:

PG-13

Runtime:

141 min
Please enter your birth date to continue:
You are not allowed to view this material at this time.
Seabiscuit revives the sweeping pleasures of movies that address and respect the mass audience, raising the common denominator instead of pandering to it. This crowd-pleaser rouses honest and engulfing cheers.

Yes, it's that cheesy, but it's also surprisingly appealing. After all, the horse Seabiscuit really WAS that phenomenal.

Aesop endowed animals with human traits to teach us lessons. Seabiscuit almost does the reverse. By means of Ross's adroit shooting and editing, we ourselves pound bravely along the track.

This rousing story of the comeback colt comes close to a modern-day Frank Capra film without the pandering or mawkishness. Yes, it's a bit hokey, but if you fight the movie's gait you'll miss the excitement of the race.

Watching this movie, you get the feeling that the Depression existed so that Seabiscuit could be memorialized.

More mystical than mysterious, Seabiscuit is a proudly cornball sentimental epic -- a reverential paean to a vanished America that's steeped in inspirational uplift and played for world-historical pathos.

I found much of it as emotionally rigged as a crooked horse race.
It's a great movie and it is a unbelievably good and I think is a sports movie that should be watched more often to motivate everyone that any

It's a great movie and it is a unbelievably good and I think is a sports movie that should be watched more often to motivate everyone that any one can be great at anything, and that you should keep trying at something until you succeed

…

Expand

Hey Im a nineteen Year old Jockey and i have Two three year old Thoroughbred colts There names are Stryder and Arwen, Stryder is a Pallamino,

Hey Im a nineteen Year old Jockey and i have Two three year old Thoroughbred colts There names are Stryder and Arwen, Stryder is a Pallamino, And Arwen is a Buckskin and they are 16.6 hands they are vary spirited horses and they are vary competive anyways i love your Seabiscuit website anyways nice job.

…

Expand

A great 5-star masterpiece full of comedy, heart, friendship,and inspiration. Good casting choices, good race scenes, and one of Gary Ross'

A great 5-star masterpiece full of comedy, heart, friendship,and inspiration. Good casting choices, good race scenes, and one of Gary Ross' best movies. A spectacular must see!

…

Expand

Not perfect, but having a heart is surely a plus. Maguire and the horse almost perfectly mirror each other. Perhaps an underrated classic.

Seabiscuit was an amazing movie! I thought it would be bad because family said it was boring, plus it was two hours and twenty minutes, but it

Seabiscuit was an amazing movie! I thought it would be bad because family said it was boring, plus it was two hours and twenty minutes, but it turned out to be a very good movie.

…

Expand

"Seabiscuit" is a 2003 biographical period drama about one of the greatest and most notable horses in American Horseracing History. The movie

"Seabiscuit" is a 2003 biographical period drama about one of the greatest and most notable horses in American Horseracing History. The movie follows the story of a wealthy man (Bridges) who hires an unconventional trainer (Cooper) during The Great Depression to help him find an appropriate horse to enter into the races. They soon stumble upon a young man (Maguire) that they soon choose to be their jockey. I truly enjoyed this movie - there's just so much to really appreciate about it. First off, and most noticeably, is the wonderful cast of characters here. I know this movie's title makes you think this film is just about the horse, but it's also about the truly remarkable people behind him. Tobey Maguire plays Red Pollard, Seabiscuit's jockey, and his performance in this movie is really quite compelling to see. His character's stubbornness is something that you'd think you'd hate, but it's actually something I, and probably most people will, find to be his most enjoyable trait. Ross also does a really effective job of drawing parallels between Pollard and Seabiscuit. This, in a sense, helps solidify the relationship between the two characters. Chris Cooper does a really fine job of playing the unorthodox, yet effective trainer, Tom Smith. However, my most favorite character in this movie is Charles Howard, played by Jeff Bridges. There's just something about a guy, who's been dealt a bad hand of cards trying to make the best of his life do something good for society. I think It's through Howard's character and Bridges magnificent performance that we really get to see what Seabiscuit's presence throughout the Depression really meant for the American people - he was a beacon of hope. The screenplay is incredibly well done, as I find many lines of this movie to be memorable and quotable. After watching the special features, I was really impressed by the intense amount of preparation and work that went into this movie. Nearly every race was historically choreographed and rehearsed, and it really helps you gain a sense that these are the actual events as they transpired. One of the only problems I have with this movie is the length. Nearly an hour of this movie is exposition and I feel that a good amount of it could've been cut out. Did that hinder my ability to enjoy this movie? No not really, so I won't knock this movie much at all. In the end, I felt that "Seabiscuit" was a great underdog sports film with a truly inspiring tone that sticks with you.

…

Expand

I read the book and this film didn't do any justice. The cinematography was beautifully done and that's it. The movie's story line was

I read the book and this film didn't do any justice. The cinematography was beautifully done and that's it. The movie's story line was confusing. The screenwriter cut out so much of the book. There was no mention in the end as to what happened to each person and Seabiscuit.

Too bad. I wish I could get my 2.2 hours back. Very long and boring for the most part.

…

Expand