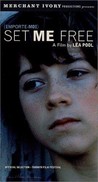 Summary:

Set in 1963 Montreal, Lea Pool's coming-of-age story examines the life of a 13-year-old girl (Vanasse) who escapes her life as the illegitimate daughter of a struggling Jewish writer and a Catholic seamstress through her love of films. She adopts an unlikely role model in the prostitute her

oine of Godard's "Vivre sa vie."

…

Expand
Director:

Léa Pool

Genre(s):

Drama

Runtime:

95 min
Aside from the effectiveness of Set Me Free as a coming-of-age story, it's also one of the most poetic avowals of love for movies that I've seen in years.

A challenging concept conveyed here most impressively onscreen.

The movie gets a little confused toward the end, I think, as its writer and director, Lea Pool, tries to settle things that could have been left unresolved.

A slice of life that adds up to exactly the sum of its parts, no more, no less.